2023/05/22
alt Inc. and Automation Anywhere to Collaboratively Develop Business Automation Solution Using RPA and AI
~ Accelerating Autonomous Operation Through AI Clones ~
alt Inc.(https://alt.ai/en/), a Japan based developer of AI Clone and Personal Artificial Intelligence (P.A.I.®️) (Head Office: Minato-ku, Tokyo, Japan; CEO: Kazutaka Yonekura), is pleased to announce that it will work with Automation Anywhere Japan K.K. (headquartered in Minato-ku, Tokyo; Kika Yui, President & CEO; hereinafter "Automation Anywhere") to develop solutions utilizing RPA and AI. By combining AI with conventional RPA technology, the two companies aim to develop and provide solutions that enable business processes to become more sophisticated and operate autonomously.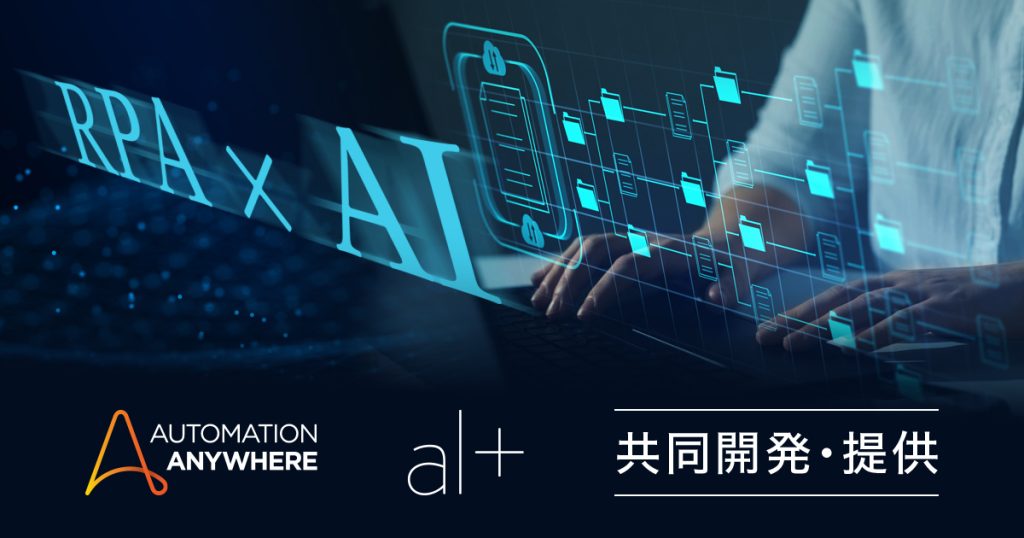 In September 2021, alt introduced the initial version of its proprietary large-scale language model, LHTM (Large-scale Heuristic Thinking Model)*1. We have continued our research and development efforts, culminating in the announcement of LHTM-2*2 in February 2023. With the same number of parameters as OpenAI's GPT-3 and other large-scale language models, LHTM-2 enables natural text generation and creative assistance, while its customizable design allows it to internally induce fact-based output.
In the same month, we announced our intention to support demonstration tests of AI across various industries. This initiative takes advantage of the language processing technology and expertise in constructing large-scale language models that alt has developed over time.
In our latest collaboration with Automation Anywhere, we aim to develop "AI clones"—digital worker solutions that enable traditional digital workers to digitize their intentions and autonomously perform any task. A digital worker is a set of individual automation tools, each with superior capability to enhance human tasks. By integrating Automation Anywhere's automation platform with alt's AI technology, we hope to achieve a higher level of work automation.
Moving forward, both companies are committed to the joint development and provision of innovative solutions adaptable across various industries and business domains.
※1:https://alt.ai/news_en/digital-clone-alt-large-scale-empirical-thinking-model-lhtm-is-now-available/
※2:https://alt.ai/news_en/japanmade-gpt3-first-ever-successfully-personalized-large-scale-heuristic-thinking-model-lhtm-2-developed-by-alt-inc/
▶For inquiries about LHTM-2/GPT and other large-scale language processing solutions, please contact
 https://alt.ai/aiprojects/gpt/
■ About AutomationAnywhere
AutomationAnywhere, the #1 cloud automation platform, provides automation and process intelligence solutions that automate entire business processes across all industries, helping companies transform in the shortest time possible. Our cloud-native platform, the only one of its kind in the world, combines RPA, artificial intelligence, machine learning, and analytics to automate repetitive tasks and increase enterprise agility, helping people focus on growing their businesses, developing the next big idea, and building customer relationships. We do it all.
■ About alt Inc.
Founded in November 2014, alt is a venture company that "aims to free people from unproductive labor" by creating P.A.I.®️ (Personal Artificial Intelligence) and AI clones. We also develop and provide SaaS products such as AI GIJIROKU, which utilizes speech recognition technology derived from the development of AI dialogue engines. 3.5 billion yen was raised in a Series D funding round in June 2022, bringing our total amount raised to 6.2 billion yen.
https://alt.ai/en/

<For inquiries from the press>
alt Inc., Public Relations, Misako Nishizawa
TEL: 03-6455-4677 e-mail: press@alt.ai
<For inquiries about the the alliance>
alt Inc, New Business Development Department, Junya Iizuka
TEL: 03-6455-4677 e-mail: new_bussines_dev@alt.ai