2023/09/08
alt forms capital and business alliance with Keyence to develop and provide solutions with generative AI
〜Aiming for nationwide deployment of DX to improve labor productivity in Japan〜

alt Inc., a Japan based developer of AI Clone and Personal Artificial Intelligence (P.A.I.®️) (Head Office: Minato-ku, Tokyo, Japan; CEO: Kazutaka Yonekura), has entered into a capital and business alliance with Keyence Corporation (Headquarters: Higashi-Yodogawa-ku, Osaka; President and Representative Director: Yu Nakata; stock code: 6861; hereinafter referred to as Keyence). The partnership aims to provide new solutions by combining alt's wide range of AI technologies, including its LLMs (large language models), speech recognition and text-to-speech, with Keyence's data-based expertise in rational corporate management and productivity improvement.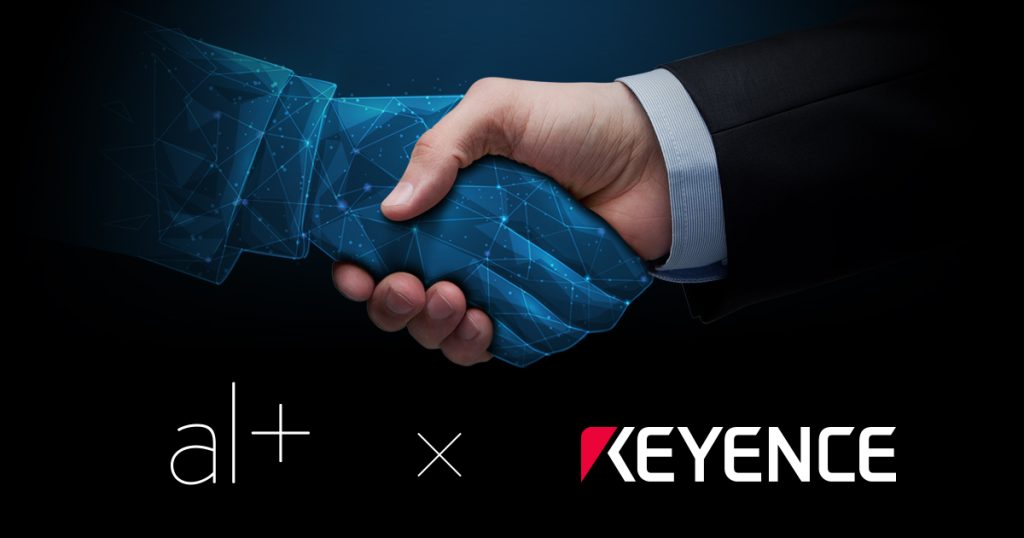 In Japan, relatively few companies are able to effectively utilize their data and knowledge to make rational strategic decisions. Movements toward DX and operational efficiency improvements using new technologies such as AI and LLMs have long been at a standstill. This partnership will leverage both Keyence's ability to solve clients' problems and alt's know-how in AI, LLMs technology and product implementation to support a range of industries and businesses, we aim to develop and provide optimal productivity improvement solutions.
Together, alt and Keyence will leverage the strengths of both companies to develop and provide optimal labor productivity improvement solutions for businesses and organizations across Japan.
For inquiries regarding this alliance and projects utilizing LLM, please reach out the alliance contact point below.
▶For inquiries about LHTM-2/GPT and other large-scale language processing solutions
 https://alt.ai/aiprojects/gpt/
■ About KEYENCE CORPORATION
Company Name: KEYENCE CORPORATION
Address: 1-3-14, Higashi-Nakajima, Higashi-Yodogawa-ku, Osaka, 533-8555, Japan
Established: May 1974
Representative: Yu Nakata, President
Business: Sensors, measurement systems, vision systems, control and measuring instruments, analysis equipment for research and development, business information equipment
URL: https://www.keyence.co.jp/company/
■ About alt Inc.
Company Name: alt Inc.
Address: Shin Roppongi Building, 7-15-7 Roppongi, Minato-ku, Tokyo
Established: November 2014
Representative: Kazutaka Yonekura, Representative Director
Business: Rresearching and developing personal artificial intelligence (P.A.I.), as well as creating and providing products such as AI GIJIROKU, an automatic meeting minutes tool that leverages elemental technologies, and AI Call Center, a voice dialogue solution that enables free conversation with AI. Additionally, the company engages in general AI contract development.
URL: https://alt.ai/en/
<Media Inquiries to:>
Misako Nishizawa (Media Relations)
e-mail:press@alt.ai
<Alliance Inquiries to:>
We provide AI solutions and support regardless of genre, including IT, finance, construction, logistics, media, manufacturing, retail, and service industries.
Please feel free to contact us.
Katsuya Asai (AI Solutions Business Department)
e-mail:gptsolutions@alt.ai
Or, please contact us at the URL below to set up a meeting with our representative.
https://calendly.com/moeno-komatsu/15min-pr