2023/08/29
alt launches altBRAIN, a no-code Generative AI platform
〜From business to games to education, LHTM-2 based BRAIN generation is now available〜

alt Inc., a Japan based developer of AI Clone and Personal Artificial Intelligence (P.A.I.®️) (Head Office: Minato-ku, Tokyo, Japan; CEO: Kazutaka Yonekura), is pleased to announce the official launch of altBRAIN (https://altbrain.ai/), a no-code Generative AI platform based on our proprietary large language model LHTM-2 (here).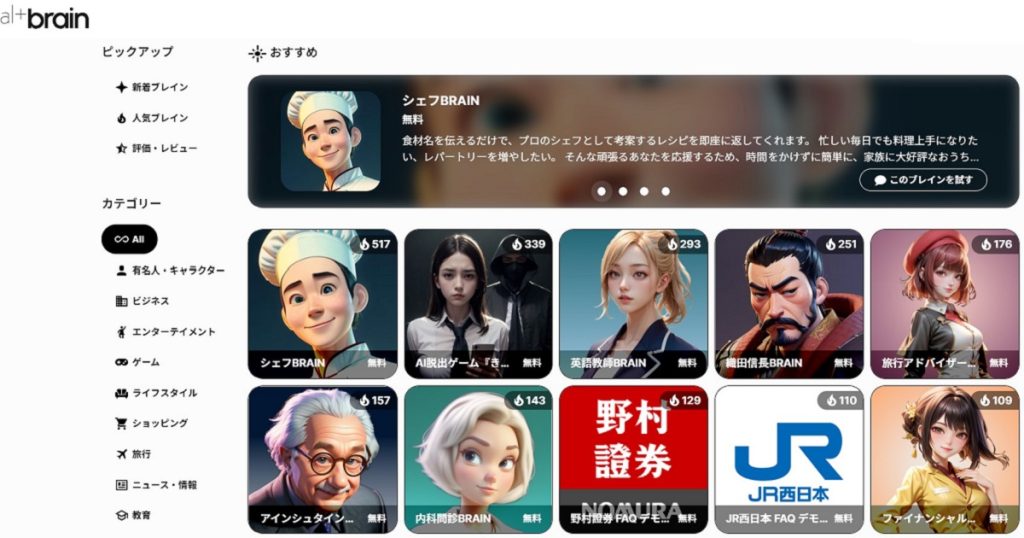 altBRAIN is a no-code Generative AI platform that makes it easy to create a wide variety of BRAINs, including characters of historical figures, celebrities such as Nobunaga Oda, game strategy BRAINs, and medical interview BRAINs for use in internal medicine, pediatrics, and other medical fields.
In the alpha version released in May 2023, approximately 20 BRAINs were available, all of which were free of charge. With the official launch of the service, we now offer a variety of plans, ranging from the Free Plan, to the Light Plan, Standard Plan, Business Plan, and others, depending on the purpose of use.
altBRAIN leverages the capabilities of LHTM-2, a large language model developed and provided by alt. An important feature of altBRAIN is its ability to automatically generate BRAINs on a variety of platforms, including LINE, Slack, and Discord. LINE Bot, for example, can be easily created, allowing for the pursuit of new possibilities in the field of online communication. In addition, the platform has the flexibility to immediately respond to the needs of rapidly growing large language models, meaning BRAINs can be quickly built for a variety of applications, from the entertainment domain to expert systems and FAQ systems within companies.
alt looks forward to expanding the platform's user base in the near future, and will also offer contracted production of individual BRAINs to companies.
By providing a no-code environment for using LHTM-2, a large language model that emphasizes factuality, and a platform that facilitates the creation of actual use cases, alt will create next-generation forms of communication and provide AI solutions to advance business and innovation.
▶For inquiries about altBRAIN
■ About alt Inc.
Founded in November 2014, alt is a venture company that "aims to free people from unproductive labor" by creating P.A.I.®️ (Personal Artificial Intelligence) and AI clones. We also develop and provide SaaS products such as AI GIJIROKU, which utilizes speech recognition technology derived from the development of AI dialogue engines. 3.5 billion yen was raised in a Series D funding round in June 2022, bringing our total amount raised to 6.2 billion yen.
https://alt.ai/en/
<Media Inquiries to:>
Misako Nishizawa (Media Relations)
e-mail:press@alt.ai
<Alliance Inquiries to:>
We provide AI solutions and support regardless of genre, including IT, finance, construction, logistics, media, manufacturing, retail, and service industries.
Please feel free to contact us.
Katsuya Asai (AI Solutions Business Department)
e-mail:altbrain@alt.ai
Or, please contact us at the URL below to set up a meeting with our representative.
https://calendly.com/moeno-komatsu/15min-pr