2021/04/16
【Event】Nihon Keizai Shimbun and alt Inc. are rco-hosting "AI GIJIROKU Business Use Webinar" on Wednesday, April 21
We will be holding an AI GIJIROKU Business Use Webinar, co-hosted by Nikkei Inc on April 21 (Wed.) at 13:00~13:30 and 17:00~17:30.

This will be co-hosted webinar using "AI GIJIROKU (AI Minutes)" https://gijiroku.ai from Nikkei Inc. group and Nikkei Integrated Systems and alt Inc.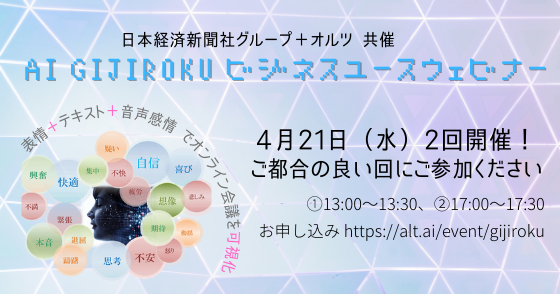 ■A highlight for this webinar
With the spread & establishment of online meetings, meeting data is being accumulated in companies.
AI GIJIROKU can convert the meeting contents into text, and the voice emotion analysis solution (Nikkei Integrated System) can visualize the emotions.
It is possible to analyze the interviewee's feelings and thoughts about the questions from audio data of online performance appraisal interviews and recruitment activities.
In this webinar, we will present an example of our voice emotion analysis solution.
Two 30-minute webinars will be held. Please join us at a time that is convenient for you.
■Date: Wednesday, April 21, 13:00-13:30, 17:00-17:30
■Headline : Nihon Keizai Shimbun Group × alt Inc. co-hosted "AI GIJIROKU Business Youth Webinar"
■Cost : Free
■Format: Online *Zoom will be used.
■Participation privilege: You will receive a trial code to use AI GIJIROKU for free for one week!
■Register here :  https://share.hsforms.com/1K7maZq6URr-6LIAdNOiQlg5mb23

■Nikkei Integrated Systems AI GIJIROKU URL :  https://www.aigijiroku.nasnet.co.jp/

We are looking forward to seeing you at the conference.


<For inquiries regarding the event>    
Public Relations representative : Yusuke Kato
Phone : +81-3-6380-7076
E-mail:  event@alt.ai