2021/05/11
【Event】New Product "AI Call Center" Presentation! Wednesday, May 26.
"Voice bot 2.0": The Dawn of a New Era of AI Call Centers
Personal Artificial Intelligence (P.A.I.) developer alt Inc. (Head office: Minato-ku, Tokyo, Japan, CEO: Kazutaka Yonekura) will hold a free AI call center webinar ("Voice bot 2.0": The Dawn of a New AI Call Center Era) on Wednesday, May 26, from 14:00-15:00: The webinar will be held on Wednesday, May 26, from 14:00 to 15:00.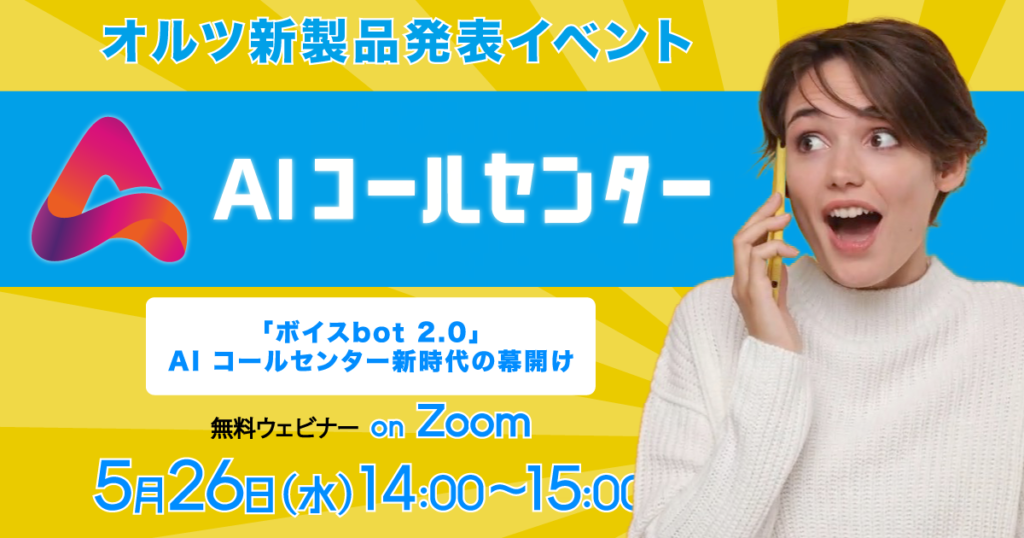 ■Date: Wednesday, May 26, 14:00~15:00
■Headline : "Voice bot 2.0": The Dawn of a New Era of AI Call Centers
■Cost : Free
■Format: Online *Zoom will be used.
■Deadline for application : Tuesday, May 25, 15:00
■Please apply from the following URL  to attend 
  >> https://share.hsforms.com/1x04a3_n1RpqSNjnI9n8Thw5mb23 <<
Free dialogue AI revolutionizes corporate support operations from the ground up.


AI Call Center (https://aicallcenter.ai/) is a spoken dialogue AI solution that enables "free dialogue with AI", using natural language processing technology that we have cultivated through years of research and development in order to meet the needs of call centers in the new modern era. It is a voice interactive AI solution.
A video introduction of "AI Call Center": https://youtu.be/oktj89pSn4M
■We would like the following people to come and listen.

 ・Call center management companies
 ・Companies that provide cloud PBX
■Three Advantages of Implementing AI Call Center (For Business)


1)24 hours a day, 365 days a year, the unmanned response by AI is possible, and the booth space required for human operators is no longer necessary. 
There is no need to increase the number of operators. This will revolutionize the conventional call center, business model.

2)Labor costs, the biggest bottleneck in call centers, can be overwhelmingly reduced.
More than 50% cost reduction compared to the conventional labor cost. You will realize a cost reduction of more than 50%.

3)By replacing the know-how of experienced operators with AI, the quality of work execution of the entire operator staff can be improved in a short period of time.
Of course, the aggregated knowledge can be retained as an asset, contributing to the promotion of DX.
■Three Advantages of Introducing an AI Call Center (Technology-wise)
This service can be linked to other advanced AI technologies for data analysis and functional expansion.

1)Emotion Analysis:
・Real-time visualization of conversations in terms of joy, anger, sorrow, and pleasure.
・Prevents problems before they occur.
・Improves operator conversation quality.

2)Trigger word detection:
・Check whether operators are using prohibited words in conversations.
・Time-series changes in the number of times trigger words are uttered and the number of utterances.

3)Personalized Analysis
・Analyze the conversations of excellent operators
・Improve business processes and services by reflecting the know-how and expertise of excellent operators in day-to-day operations.
■Three advantages of introducing "AI Call Center" (Data Analysis-wise)
Analysis of the vast amount of call data exchanged between customers and operators on a daily basis can be of great value in the future call center business.

1)To know what kind of conversation a good operator is having.
All the operator's talk will be visualized and analyzed by AI. This will create an environment where new operators can immediately learn from the conversations of excellent, experienced operators.

2)Collecting VOC to improve service value
By analyzing and aggregating the inquiries received from customers and automatically summarizing customer concerns and dissatisfaction, the system collects data for different purposes.

3)To analyze the contents of conversation logs when problems occur with customers.
The system refers to the text data of each conversation and extracts the keywords that caused the trouble from the contents of the conversation in which the trouble occurred.
This makes it possible to detect keywords that cause problems in advance.



--- About Us ---
Company name : alt Inc.
Website : https://alt.ai/en/
Address: 9F SENQ Roppongi,Shin-Roppongi bldg. 7-15-7 Roppongi, Minato-ku, Tokyo, Japan
Representative: Kazutaka Yonekura, CEO
Establishment : November 2014
Business description : Development and provision of P.A.I. (Personal Artificial Intelligence).
[P.A.I.]
P.A.I. (Personal Artificial Intelligence) is an AI that aims to digitize our own narrative and place it in the cloud to perform all digital tasks.

*P.A.I. 
"P.A.I." is a registered trademark of alt.
Concept movie of P.A.I. : 
https://www.youtube.com/watch?v=AqTDorosHwY


--- Our AI solutions (Partial)---
◆Inquiries for our AI solutions
https://alt.ai/aiprojects/en


◆AI GIJIROKU (AI Minutes)" official website:
https://gijiroku.ai/en


◆The world's first AI clone questionnaire "Nulltitude" official website
https://nulltitude.ai/en


◆"NeoRMR" Operator AI Support System official website
https://alt-technologies.com/rmr/en


◆"AI TSUYAKU (AI Interpreter)" official website
https://tsuyaku.ai/


◆"AI Call Center" Official Website
https://aicallcenter.ai/
<For inquiries regarding the press and media>    
Public Relations representative : Misako Nishizawa
Phone : +81-3-6380-7076
E-mail: press@alt.ai
<For inquiries regarding the event>    
Public Relations representative : Yusuke Kato
Phone : +81-3-6380-7076
E-mail:  event@alt.ai