2020/07/09
Announcing the Launch of Training AI CAST Specialized in Role-Playing
■ Background of the Development
PBT develops and operates systems necessary for the operation of BPO businesses, including systems for contact center operators, business systems, and mobile apps for clients in the automobile, real estate, and insurance industries. The PI Group provides services to solve problems such as accidents, breakdowns, and injuries, especially for these industries. Contact center operators are required to have advanced skills to provide prompt and accurate advice in a wide variety of occurrences.
In addition, in order to maintain a high level of customer service amidst the diversification of services due to the development of new technologies such as automated driving, we have been working on the use of AI in operator training.
This time, training AI can be generated by creating scenarios of past inquiry cases and registering them in the system. The new system enables us to automate the training of new staff and further improve the quality of existing staff.
■ System Overview
Training AI CAST uses our communication AI as its core technology. Using advanced natural language processing technology, the training AI automatically analyzes and interprets what the operator has said, and asks the next question according to the content.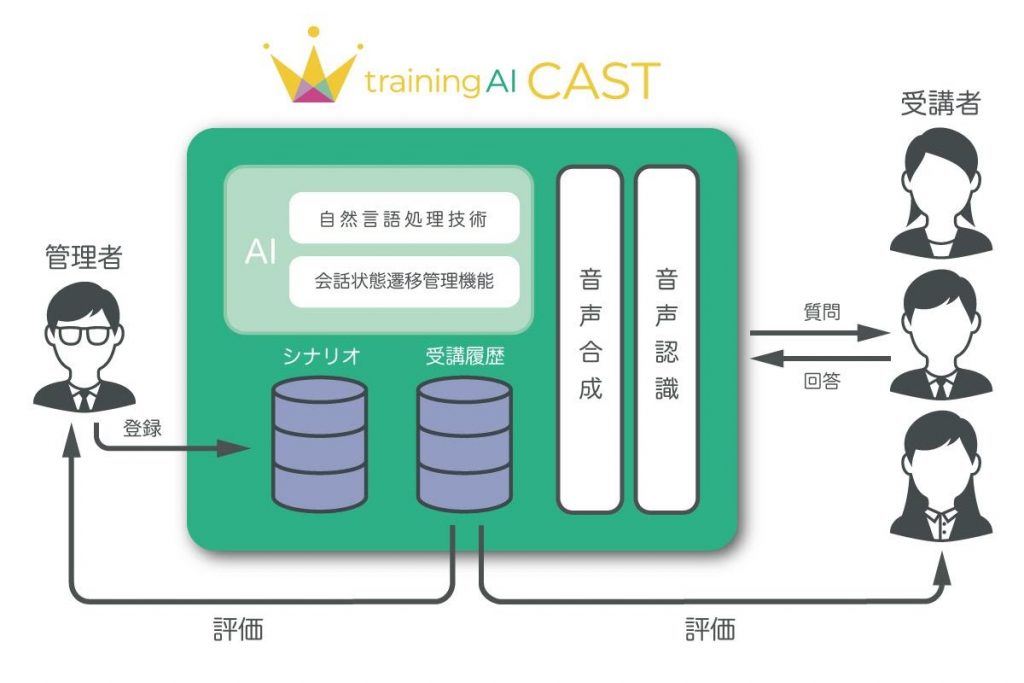 ・Training function
Role-playing to see if you can respond correctly to the training AI that asks you questions in various character voices. You will be able to acquire response skills that are difficult to acquire through classroom training.
・Evaluation function
By using the AI's state transition function, you can immediately check your weaknesses and what you did wrong by grading each conversation as it ends. In addition to judging your ability and pointing out your weak points, you can also check your own growth record from the past.
・Management function
You can register your company's knowledge as scenarios in the system. Since the level of difficulty can be set, the system can be used by a wide range of users, from beginners to experienced users.
■Expected effects
・Shorten the training period
・Shorten the training period by using AI for role-playing, and significantly reduce the training cost.
・Reduction of man-hours for training instructors
・Automating role-playing will reduce the man-hours required for skilled staff to serve as training instructors.
・Systematization of knowledge
・Systematization of knowledge - Evolution of proprietary knowledge into sustainable and scalable information assets
■ alt technologies, Inc.
Company name : Alt Technologies Inc.
URL : https://alt-technologies.com
Location: SENQ Roppongi 9F, 7-15-7 Roppongi, Minato-ku, Tokyo
Representative :Kazutaka Yonekura, CEO
Establishment : April, 2019
Business description: Research and development of artificial intelligence and artificial intelligence-related technologies, and consulting, planning, development and operation of services related to these
■Premier Business Technology Co.
Company name : Premier Business Technology Co.
URL : https://www.premier-bt.co.jp/
Location : 14F Kojimachi Odori Building, 2-4-1 Kojimachi, Chiyoda-ku, Tokyo
Representative :Hisao Nishizawa, Representative Director
Establishment : April 2013
Business : Consulting, system development, mobile application development, infrastructure maintenance
<For inquiries regarding the press and media>    
Public Relations representative : Misako Nishizawa
Phone : +81-3-6380-7076
E-mail: press@alt.ai
<For inquiries regarding the event>    
Public Relations representative : Yusuke Kato
Phone : +81-3-6380-7076
E-mail:  event@alt.ai