2021/07/21
alt Releases "AI Translation," with Real-Time Translated Subtitles Displayed in Video Conferences
Personal Artificial Intelligence (P.A.I.) developer alt Inc. (Head office: Minato-ku, Tokyo, Japan, CEO: Kazutaka Yonekura), has released "AI Translation ( https://honyaku.ai )," which can display translated subtitles in real time on video conferences. (Headquarters: Minato-ku, Tokyo; President: Kazutaka Yonekura; hereinafter referred to as "alt" or "the Company") has released "AI Translation", which enables real-time translation subtitles to be displayed in video conferencing.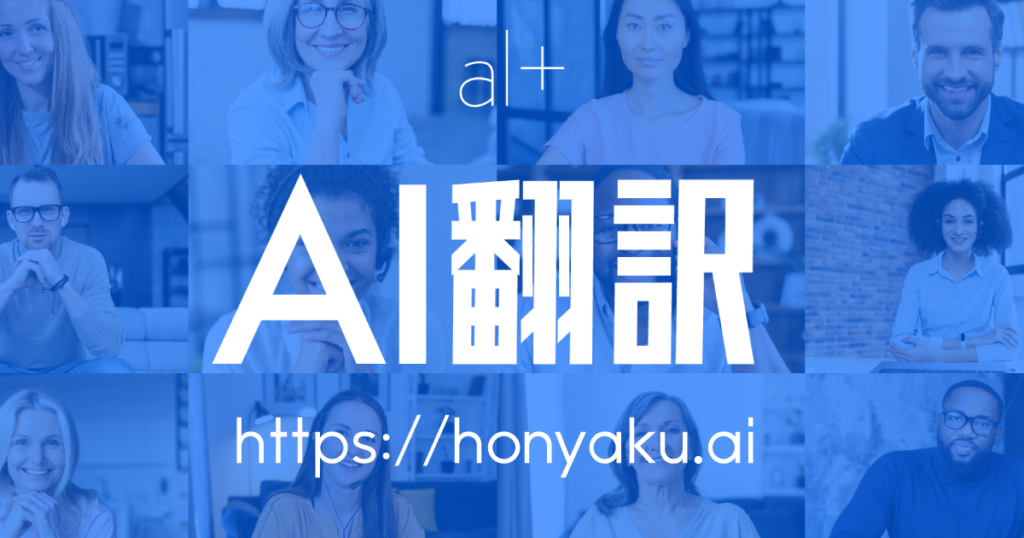 ■ Overview
With the recent rapid spread of remote work and video conferencing systems, global connections between people are expanding like never before. In response, we have been receiving an increasing number of inquiries about machine translation, but we have yet to find a service with an interface that can take advantage of the remarkable improvements in the accuracy of machine translation.
■ About the Release of AI Translation
In order to solve this problem, we have released a new service called "AI Honyaku (https://honyaku.ai)."
"AI Translation" is a service that immediately converts the words spoken into text by the user into the microphone, translates them into any language, and displays them as subtitles on the video of the video conference.
The speed from the time the user finishes speaking to the time the subtitles appear on the video can be as fast as two seconds depending on the network environment, allowing for smooth communication.
More than 30 languages are supported, and the language to be spoken and the language to be translated can be freely changed.
At the time of release, Zoom is the only conference system that is supported, but other conference systems will be supported in the future.
The service is free of charge. Google Chrome is the supported browser.
■ We Are Looking for Collaboration with Conference Systems
We are currently working with companies that provide various online video conferencing systems. Please contact us for more information.
【Today!】Clone Conference 3 - Excursions -
> > You can watch it for free here<<
【Date】 Wednesday, July 21, 13:00 - 16:00 (May be extended significantly)
【Outline】 Clone Conference 3 - Excursions
【Cost】 Free
The event will be broadcasted simultaneously via Zoom and YouTube Live.
【Streaming URL】 https://alt.ai/cc3_07212021
■ alt Inc.
Through the research and development of "alt", a P.A.I. (Personal Artificial Intelligence) based on digital cloning technology, we aim to create the first autonomous society in the history of mankind, in which our daily lives themselves become assets that continue to create lasting value, and in which we can govern ourselves based on our own assessment.
Company name : alt Inc.
Website : https://alt.ai/en/
Address: 9F SENQ Roppongi,Shin-Roppongi bldg. 7-15-7 Roppongi, Minato-ku, Tokyo, Japan
Representative: Kazutaka Yonekura, CEO
Establishment : November 2014
Business description : Development and provision of P.A.I. (Personal Artificial Intelligence).
[P.A.I.]
P.A.I. (Personal Artificial Intelligence) is an AI that aims to digitize our own narrative and place it in the cloud to perform all digital tasks.

*P.A.I. 
"P.A.I." is a registered trademark of alt.
Concept movie of P.A.I. : 
https://www.youtube.com/watch?v=AqTDorosHwY


--- Our AI solutions (Partial)---
◆Inquiries for our AI solutions
https://alt.ai/aiprojects/en


◆AI GIJIROKU (AI Minutes)" official website:
https://gijiroku.ai/en


◆The world's first AI clone questionnaire "Nulltitude" official website
https://nulltitude.ai/en


◆"NeoRMR" Operator AI Support System official website
https://alt-technologies.com/rmr/en


◆"AI TSUYAKU (AI Interpreter)" official website
https://tsuyaku.ai/


◆"AI Call Center" Official Website
https://aicallcenter.ai/


◆"AI Moderator" official website
https://aimoderator.ai/
<For inquiries regarding the press and media>    
Public Relations representative : Misako Nishizawa
Phone : +81-3-6380-7076
E-mail: press@alt.ai
<For inquiries regarding the event>    
Public Relations representative : Asai
Phone : +81-3-6380-7076
E-mail: poc@alt.ai