2023/03/28
alt Inc. Launches AI GIJIROKU 100 for Human Correction of Automatically Generated Transcripts
Achieves 100% accuracy in creating minutes by directly requesting corrections and sentence alignment
alt Inc.(https://alt.ai/en/), a Japan based developer of AI Clone and Personal Artificial Intelligence (P.A.I.®️) (Head Office: Minato-ku, Tokyo, Japan; CEO: Kazutaka Yonekura), is pleased to announce the launch of "AI GIJIROKU 100," which guarantees 100% accuracy in the transcription of minutes and other documents. AI GIJIROKU 100" is a transcription tool developed and provided by alt. AI GIJIROKU 100" can be requested directly from the "AI GIJIROKU" service.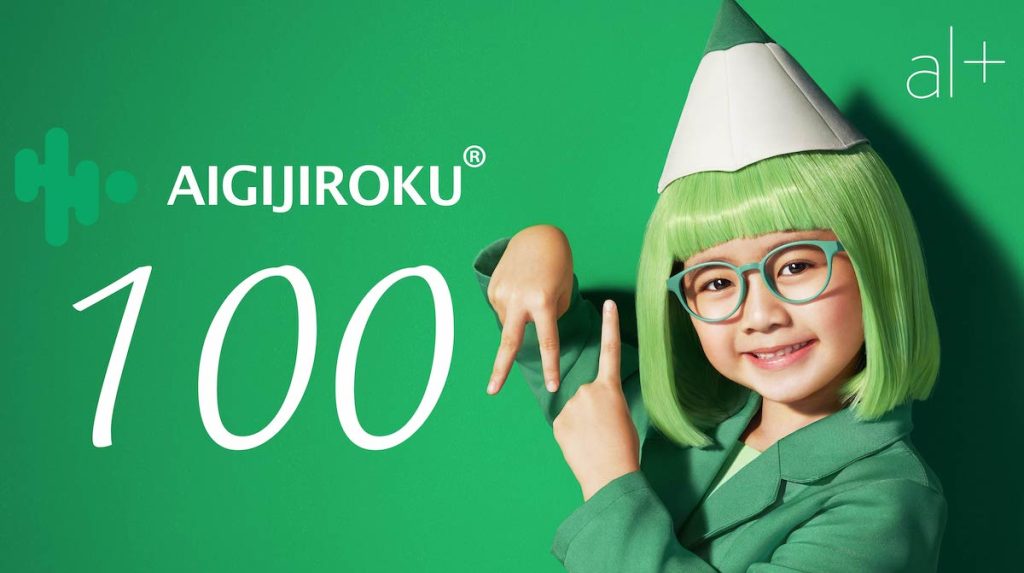 AI GIJIROKU 100 is a new function that guarantees 100% transcription accuracy by correcting errors in AI GIJIROKU, which performs transcription using voice recognition. This feature enables the use of AI GIJIROKU in a wide range of fields including legal, tax, accounting, medical, and academia, where a high accuracy of records are required.* AI GIJIROKU 100 can be used to request the following modifications and corrections.
*At this time, only Japanese is supported. We look forward to releasing an English-language version soon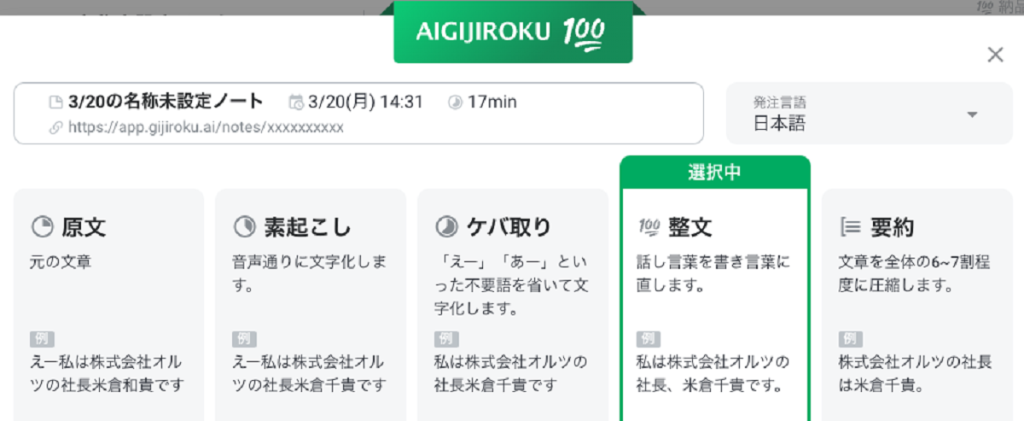 [Text alignment]
This is a standard method of transcription. Unnecessary words (e.g., "uh"), duplicated words (e.g., "I, I am"), mispronunciations, and restatements are removed, resulting in a transcription that is easier to read. This service is recommended not only for meeting minutes, but also for transcription of interviews and lectures. The speaker's tone is maintained, so the atmosphere of the conversation will not be lost.
[Transcription]
Verbatim transcriptions, including unnecessary or duplicated words, without alteration. Since the content of what is said is recorded accurately, we recommend this service especially in situations where accurate transcription is required, such as legal or academic transcription.
[Text processing]
This service corrects the endings of text-aligned sentences. Specifically, colloquial expressions such as "right" and "right" are changed to more literal expressions. This is recommended when transcribed text or meeting minutes are to be included in web-based handouts, pamphlets, or other booklets.
[Summary]
We will summarize the text to the length you specify. We may conduct a hearing for your request.
AI GIJIROKU is already in use by a wide range of users, including students and businesspeople, and we will continue to add new functions regularly to help improve the efficiency of work around the world.
▶ We are looking for trial partners!
We are looking for trial partners who can try "AI GIJIROKU 100" for the first time. Please contact us for details.
▶ For inquiries regarding the introduction of AI GIJIROKU
https://gijiroku.ai/company-contact/
【AI GIJIROKU Free Webinar Information!】
Date:Wednesday, April 19, 2023 14:00~15:00
Summary:[Are you looking back at the minutes?]
                         Seminar on using meeting minutes not only as records, but also as know-how
Method:Free online seminar *Zoom will be used.
Application URL:https://event.alt.ai/aigijiroku_2023apr19
■ "Minutes already taken at the end of the meeting" 
      What is the AI GIJIROKU automatic transcription tool?
AI GIJIROKU is an automated meeting minutes tool that improves transcription accuracy with each use of its AI learning function. It supports real-time simultaneous translation in more than 35 major languages and boasts 99.8% speech recognition accuracy, even in specialized industries such as finance, medical, pharmaceutical, chemical, and construction. It can personalize sentences automatically learned from users' SNS, e-mail, and dictionary data, and personalize speaker identification by identifying users' voiceprints.
■ About alt Inc.
Founded in November 2014, alt is a venture company that "aims to free people from unproductive labor" by creating P.A.I.®️ (Personal Artificial Intelligence) and AI clones. We also develop and provide SaaS products such as AI GIJIROKU, which utilizes speech recognition technology derived from the development of AI dialogue engines. 3.5 billion yen was raised in a Series D funding round in June 2022, bringing our total amount raised to 6.2 billion yen.
https://alt.ai/en/

<For inquiries from the press>
alt Inc., Public Relations, Misako Nishizawa
TEL: 03-6455-4677 e-mail: press@alt.ai

<For inquiries regarding the alliance>
alt Inc., Sales, Tatsuya Kawaguchi
TEL: 03-6455-4677 e-mail: gijiroku@alt.ai