2020/12/16
alt Inc. Announces "AI Interpreter," the World's First Video Conference to Enable Multilingual Speech
Personal Artificial Intelligence (P.A.I.) developer alt Inc. (Head office: Minato-ku, Tokyo, Japan, CEO: Kazutaka Yonekura), announced today that it has launched "AI Interpreter" https://tsuyaku.ai, which allows users to speak in multiple languages via online video calls, on December 16, 2020.
Using our digital cloning technology and ultra-high-speed computing technology, the audio and video in a video conference can be rewritten in real-time to make it seem as if the person in question can speak various languages.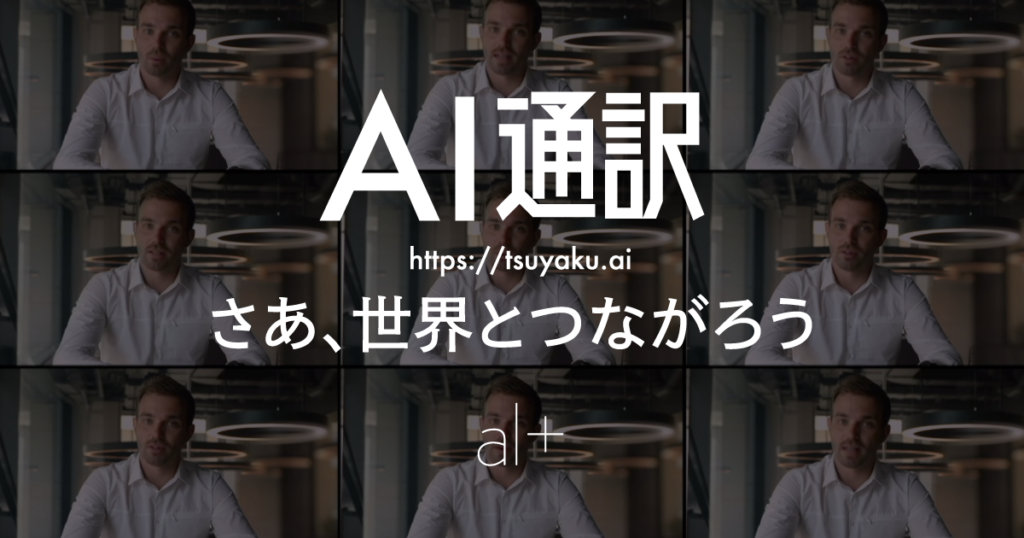 ■ Overview
In 2020, when the way people work changed dramatically, online conferencing took root at a rapid pace. This created an environment in which people could start communicating instantly, anytime, anywhere. However, the language barrier remains high and the scope of the connection is limited.
Our AI Interpreter is a product that attempts to solve this problem with the power of AI technology. We hope that this product will help people around the world connect without barriers and deepen mutual understanding.

In addition, we define an efficient meeting as a smart meeting and will contribute to solving social issues by not only visualizing meetings but also by providing concrete solutions for optimal employee work styles.
■ Aiming for a Truly Natural Man-Machine Interface
The real-time interpretation of AI Interpreter not only interprets spoken words into another language but also instantly rewrites the image captured by the camera itself to produce output as if the person was freely controlling a variety of languages. This is the embodiment of the ideal man-machine interface that our digital cloning technology aims for, which is the same as that of a human being.

It is currently available in about 30 languages and can be output to existing online conference systems with a simple operation.



■ Easy-to-Introduce Pricing
AI Interpreter has a low-price on-demand plan of 5,000 yen (excluding taxes) for ten minutes, which can be used by individuals. We also offer a flat-rate plan for up to five hours per month at 100,000 yen per month, which is convenient for global business development for venture companies, small and medium-sized enterprises, and large corporations.
■ Recruitment of "AI Interpretation" Partners
The AI Interpretation Partner Cooperation System has been established to accept applications from companies that sell and develop the service. AI Interpreter partner companies will be able to offer the service at a special rate, allowing them to resell it with their own flexible plans.
For inquiries about AI Interpreter partners, please contact us.
>>> https://tsuyaku.ai <<<

AI Interpreter URL:
https://tsuyaku.ai

AI Interpreter" launch event YouTube Live video:
https://youtu.be/apWe3-U17H8?t=2831



[P.A.I.]
P.A.I. (Personal Artificial Intelligence) is an AI that aims to digitize our own narrative and place it in the cloud to perform all digital tasks.

*P.A.I. 
"P.A.I." is a registered trademark of alt.
Concept movie of P.A.I. : 
https://www.youtube.com/watch?v=AqTDorosHwY
--- About Us ---
Company name : alt Inc.
Website : https://alt.ai/en/
Address: 9F SENQ Roppongi,Shin-Roppongi bldg. 7-15-7 Roppongi, Minato-ku, Tokyo, Japan
Representative: Kazutaka Yonekura, CEO
Establishment : November 2014
Business description : Development and provision of P.A.I. (Personal Artificial Intelligence).
<For inquiries regarding the press and media>    
Public Relations representative : Misako Nishizawa
Phone : +81-3-6380-7076
E-mail: press@alt.ai