2023/04/28
alt Inc. Appears in HEADLIGHT In-Taxi Information Program
Introducing the company's self-developed generative AI, LHTM-2, alongside ChatGPT
alt Inc.(https://alt.ai/en/), a Japan based developer of AI Clone and Personal Artificial Intelligence (P.A.I.®️) (Head Office: Minato-ku, Tokyo, Japan; CEO: Kazutaka Yonekura), will appear in the ChatGPT feature of the "HEADLIGHT" on In-Taxi Information Program "THE TOKYO TAXI VISION GROWTH" ("GROWTH") from Monday, May 8 to Sunday, May 14, 2023, to introduce its self-developed generative AI "LHTM-2 (LATTM-2)".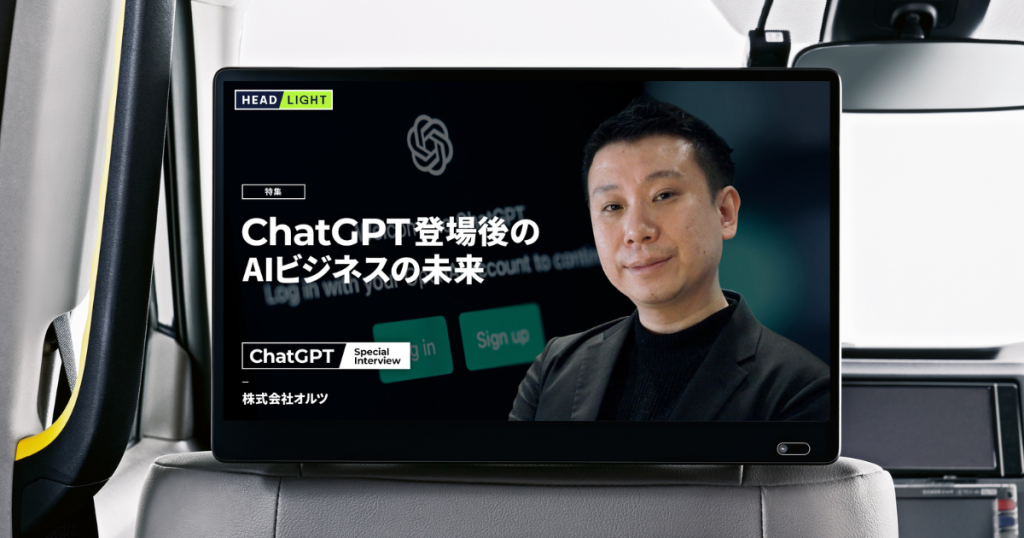 【What is LHTM-2?】
LHTM-2, a large-scale language model, is a generative AI developed by alt. This Japanese-originated technology matches GPT in terms of parameters, and it's versatile enough for machine translation, automatic summarization, text generation, and dialogue. It offers the unique benefit of having been developed in and provided from Japan, thus, it is capable of generating fluent Japanese and more personalized text.
Through the development, provision, and utilization of LHTM-2, alt continues to strive towards its goal of "freedom from unproductive labor".
【"alt Conference 2023" will be held】
~We are pleased to invite you to experience the "LHTM-2". Please join us! ~
Title : alt Conference 2023 - Life or Death : The Destruction and Creation of Generative AI - 
Date:Wednesday, May 24, 15:00~18:30
Reception will be held after the closing session.
Venue : Bellesalle Roppongi
Sumitomo Fudosan Roppongi Dori Building B1F, 7-18-18 Roppongi, Minato-ku, Tokyo 106-0032 (2 minutes walk from Roppongi Station)
Admission: Free
To register, please visit: https://event.alt.ai/alt-conference2023
Details on speakers, program, etc. will be released as it's available.
If you have any questions, please feel free to contact us at the contact information below.
【What is HEADLIGHT?】
HEADLIGHT is a popular information program featured on GROWTH, one of the premier taxi signage media outlets in Tokyo. Presenters Genta Aoki and Rena Yamazaki deliver engaging and educational content, offering fresh experiences and inspiration for those traveling by taxi.
Official YouTube: https://www.youtube.com/@HEADLIGHT_growth/
Official Twitter: https://twitter.com/HEADLIGHT_TAXI
【Program summary】
Since the release of ChatGPT last year and the opening of its API to the public in March of this year, this technology has garnered significant attention. AI is being increasingly integrated into various aspects of everyday life and business. In this special feature, we'll report on companies and services using ChatGPT to develop innovative products and services over a four-week period.
Title: "The Future of AI Business after the Emergence of Chat GPT
Dates: Monday, May 8, 2023 – Sunday, May 14, 2023
Broadcast area: Mainly in Tokyo, Saitama, Kanagawa and other metropolitan areas
*Note: Broadcast starts within 10 minutes of boarding
■ About alt Inc.
Founded in November 2014, alt is a venture company that "aims to free people from unproductive labor" by creating P.A.I.®️ (Personal Artificial Intelligence) and AI clones. We also develop and provide SaaS products such as AI GIJIROKU, which utilizes speech recognition technology derived from the development of AI dialogue engines. 3.5 billion yen was raised in a Series D funding round in June 2022, bringing our total amount raised to 6.2 billion yen.
https://alt.ai/en/

<For inquiries regarding the press>
alt Inc., Public Relations, Misako Nishizawa
TEL: 03-6455-4677 e-mail: press@alt.ai