2023/04/13
AI GIJIROKU Equipped with AI Assistant function to Automatically Extract Important Points, To-Dos, Conclusions, and Agreements
Makes the automatic creation of meeting minutes even easier to improve operational efficiency
alt Inc.(https://alt.ai/en/), a Japan based developer of AI Clone and Personal Artificial Intelligence (P.A.I.®️) (Head Office: Minato-ku, Tokyo, Japan; CEO: Kazutaka Yonekura), is pleased to announce that AI GIJIROKU, our AI automated minutes tool, now includes a new AI Assistant function.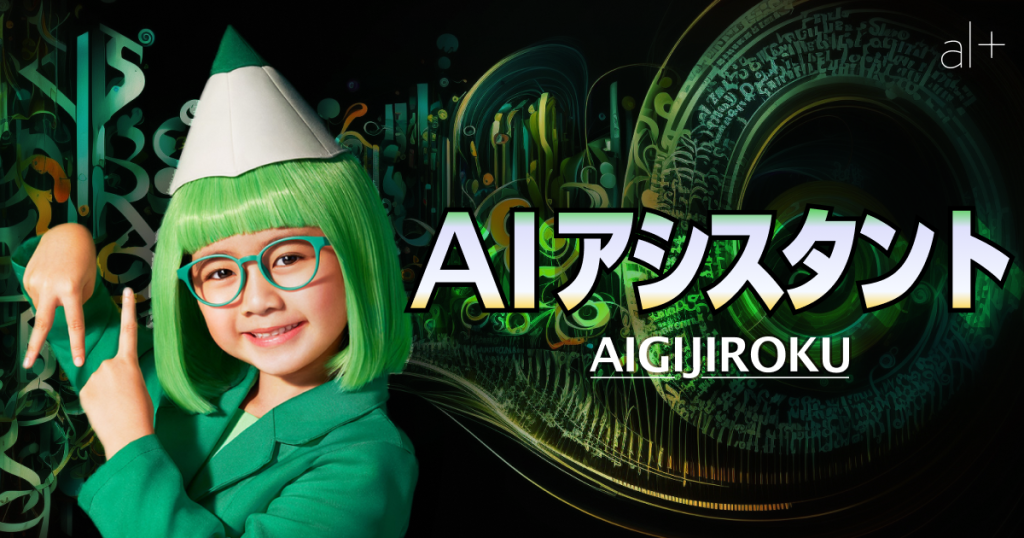 AI GIJIROKU's AI Assistant function supports the automation of tasks ranging from creating titles and headings to identifying important points and to-dos, proofreading text, and summarizing meetings. It also supports multilingual translation, meaning minutes can be sent to all parties ωinvolved before deploying them. Even minutes of longer meetings can be handled smoothly, eliminating the need to reread extended documents and thus improving productivity and operational efficiency.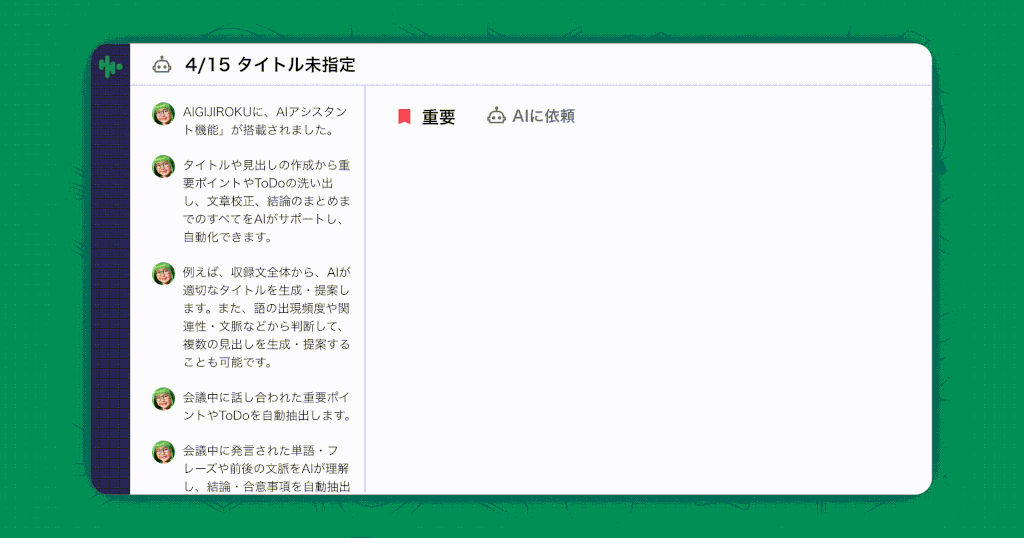 The AI Assistant function includes the following features: Users can select from a menu of several assistant function from several menus to suit their purpose, and each function is available for the entire proceedings or an arbitrarily selected time range.
[Suggestion of titles and headings]
AI Assistant generates and suggests appropriate titles using the entire text recorded by AI GIJIROKU. It can also suggest section headings based on word frequency, relevance, context, and other factors.
[Automatic extraction of important points and to-dos]
The system automatically identifies key discussion points and to-do items brought up during the meeting. 
[Automatic extraction of conclusions and agreements]
AI Assistant understands the words and phrases said during the meeting in context, automatically extracting conclusions and agreed-upon points.
[Proofreading and summarizing of selected sentences]
When the user selects any number of sentences, AI Assistant detects errors in grammar, phrases, and ambiguity of expression and suggests corrections. The tool can also write summaries of the selected sentences.
 [Other features]
Users can give instructions to AI Assistant in natural language, and it will respond with an accurate, natural-sounding answer.
 *An "alt token" is required for each plan.
Please refer to our fee schedule (https://gijiroku.ai/#features_plans) for the alt tokens available for each plan.
New features in AI Assistant include Clear Writing (announced in March; https://alt.ai/news/news-1926/), AI summary, bookmark and agenda support, and free memos. These features will not only make preparing meeting minutes faster and easier but also enable the creation of more accurate and higher-quality minutes.
AI GIJIROKU has been used by everyone from students to businesspeople across a variety of industries, and will continue to be upgraded to meet user needs, contributing to the improvement of work efficiency and productivity around the world.
▶ For inquiries regarding the introduction of AI GIJIROKU
https://gijiroku.ai/company-contact/
【AI GIJIROKU Free Webinar Information!】
Date:Wednesday, April 19, 2023 14:00~15:00
Summary:[Are you looking back at the minutes?]
Seminar on using meeting minutes not only as records, but also as know-how
Method:Free online seminar *Zoom will be used.
Application URL:https://event.alt.ai/aigijiroku_2023apr19
■ "Minutes already taken at the end of the meeting" 
      What is the AI GIJIROKU automatic transcription tool?
AI GIJIROKU is an automated meeting minutes tool that improves transcription accuracy with each use of its AI learning function. It supports real-time simultaneous translation in more than 35 major languages and boasts 99.8% speech recognition accuracy, even in specialized industries such as finance, medical, pharmaceutical, chemical, and construction. It can personalize sentences automatically learned from users' SNS, e-mail, and dictionary data, and personalize speaker identification by identifying users' voiceprints.
■ About alt Inc.
Founded in November 2014, alt is a venture company that "aims to free people from unproductive labor" by creating P.A.I.®️ (Personal Artificial Intelligence) and AI clones. We also develop and provide SaaS products such as AI GIJIROKU, which utilizes speech recognition technology derived from the development of AI dialogue engines. 3.5 billion yen was raised in a Series D funding round in June 2022, bringing our total amount raised to 6.2 billion yen.
https://alt.ai/en/

<For inquiries from the press>
alt Inc., Public Relations, Misako Nishizawa
TEL: 03-6455-4677 e-mail: press@alt.ai

<For inquiries regarding the alliance>
alt Inc., Sales, Tatsuya Kawaguchi
TEL: 03-6455-4677 e-mail: gijiroku@alt.ai