2023/04/06
Achievement in Japan's National Medical Examination Generative AI Jointly Developed by alt Inc. and Fast Doctor Reaches Passing Score in National Medical Examination
Including Contraindication Questions
alt Inc.(https://alt.ai/en/), a Japan based developer of AI Clone and Personal Artificial Intelligence (P.A.I.®️) (Head Office: Minato-ku, Tokyo, Japan; CEO: Kazutaka Yonekura), is pleased to announce that it has jointly developed an AI that meets the criteria for passing questions on the National Medical Practitioners Qualifying Examination, using alt's LHTM-2, a large-scale language processing model from Japan, with Fast Doctor Co., Ltd.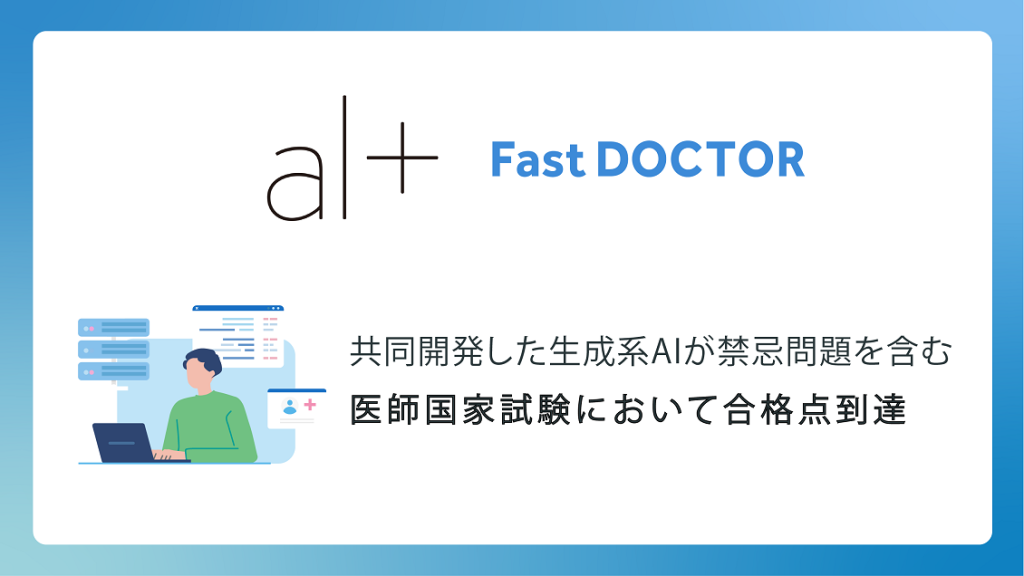 ■ Major Step Forward in AI-Supported Medical Practice
In February 2023, the highly interactive and free-to-use artificial intelligence (AI) ChatGPT made headlines when it was used by medical students to solve past questions of the national medical examinations. Although the correct answer rate was 55%, which did not reach the passing standard, many recognized the AI's ability to process information.
Despite the fact that ChatGPT does not specialize in any particular field of study, a number of experiments in the U.S. have shown that it has reached the passing line when made to solve the medical doctor certification exam and MBA (master of business administration) exam, and it is expected that interactive AI will assist doctors in the near future.
After repeated tests, alt and Fast Doctor have succeeded in developing an AI that can pass the FY2022 National Examination for Physicians, with a correct answer rate of 82%. The AI is also able to pass the contraindication selection questions.
*Passing Criteria for the FY2022 National Examination for Medical Practitioners (Source: Ministry of Health, Labor and Welfare, Announcement of Passage of the 116th National Examination for Medical Practitioners)
(1) For the compulsory questions, one point for each general question and three points for each practical clinical question, for a total score of 158 out of 197 points.
     However, for candidates who are excluded from scoring some of the compulsory questions, the score for the compulsory questions shall be 80% or more of the total score.
(2) For general questions and clinical practice questions excluding the compulsory questions, each question shall be worth one point, and the total score shall be 214 points or more / 297 points.
(3) No more than three contraindication questions should be selected.
Supervisor: Dr. Makoto Kurita (Doctor, President of DMC)
■ What is Medical AI-LHTM2?
・ Limited scope of study such as medical school textbooks, medical books, past question collections, and mock examinations.
・Leverages quality checks by clinicians and image recognition to enable correct answers to contraindicated questions.
   These features ensure accuracy that meets passing standards for the National Medical Examination as well.
By combining Fast Doctor's extensive medical experience and our world-class large-scale language processing technology, we will work toward solving various problems in the medical field, such as ensuring medical safety and reforming the way medical professionals work.
We will continue to strive for the realization of a society in which all people can make the most of their lives without being restricted by time and space, and toward our mission of "freeing mankind from labor."
(Reference) About LHTM-2: https://alt.ai/news_en/japanmade-gpt3-first-ever-successfully-personalized-large-scale-heuristic-thinking-model-lhtm-2-developed-by-alt-inc/
▶ For inquiries about LHTM-2/GPT-3 and other large-scale language processing solutions, please contact
 https://alt.ai/aiprojects/gpt/
■ Fast Doctor Co., Ltd.
Since its establishment in 2016, Fast Doctor has developed advanced comprehensive medical services, including services for patients (medical consultation, emergency house calls, online medical services, home nursing, etc.), medical institutions (house call agency business for home doctors), and local governments (support for building medical systems to solve local medical issues). From 2022, we will expand the scope of our work in health tech, including full-fledged medical DX research in cooperation with universities.
Location: EDGE Shiba 4-chome Building 3F, 4-5-10 Shiba, Minato-ku, Tokyo 108-0014
Established: August 2016
Representative: Ryo Kikuchi (Doctor), Takashi Mizuno
■ About alt Inc.
Founded in November 2014, alt is a venture company that "aims to free people from unproductive labor" by creating P.A.I.®️ (Personal Artificial Intelligence) and AI clones. We also develop and provide SaaS products such as AI GIJIROKU, which utilizes speech recognition technology derived from the development of AI dialogue engines. 3.5 billion yen was raised in a Series D funding round in June 2022, bringing our total amount raised to 6.2 billion yen.
https://alt.ai/en/

<For inquiries from the press>
alt Inc., Public Relations, Misako Nishizawa
TEL: 03-6455-4677 e-mail: press@alt.ai

<For inquiries regarding the alliance>
alt Inc., New Business Development Department, Atsushi Okabe
TEL: 03-6455-4677 e-mail: new_bussines_dev@alt.ai