2023/08/25
alt creates a clone of Kou Takimoto, President of Dentsu Digital, using CLONEdev, open to all employees at an all-employee event
~Creating a new form of corporate communication using LLMs (large language models)~

alt Inc., a Japan based developer of AI Clone and Personal Artificial Intelligence (P.A.I.®️) (Head Office: Minato-ku, Tokyo, Japan; CEO: Kazutaka Yonekura), has developed a personality generation platform called CLONEdev (https://clone.dev/) that facilitates the digital reproduction of humans. The platform was recently used to create a digital clone of Mr. Kou Takimoto, Representative Director, President and CEO of Dentsu Digital Inc. The clone was unveiled to all Dentsu Digital employees at an internal event held on July 27.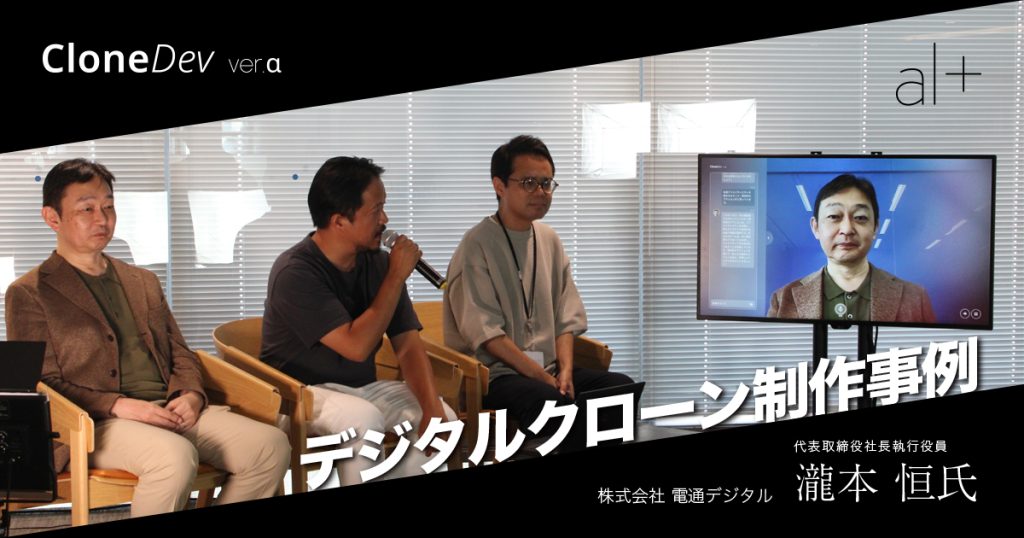 alt's large language model, LHTM-2, is the world's first system to digitally reproduce a user's personality through its 'Clone Modeling Engine,' which generates artificial consciousness. The user's lifelog is linked to the system, and a digital clone is generated with the simple operation of the web UI.
*https://alt.ai/news_en/news_en-2186/
The clone of Mr. Takimoto is alt's latest contribution to a new form of corporate communication in which clones like this one, rather than Mr. Takimoto himself, communicate with employees. The clone will be able to easily communicate with and understand Mr. Takimoto's personality, thoughts, management philosophy, and other topics that are normally difficult for employees to ask questions about or communicate with. The clone is a great way to help business leaders better communicate with and understand their employees.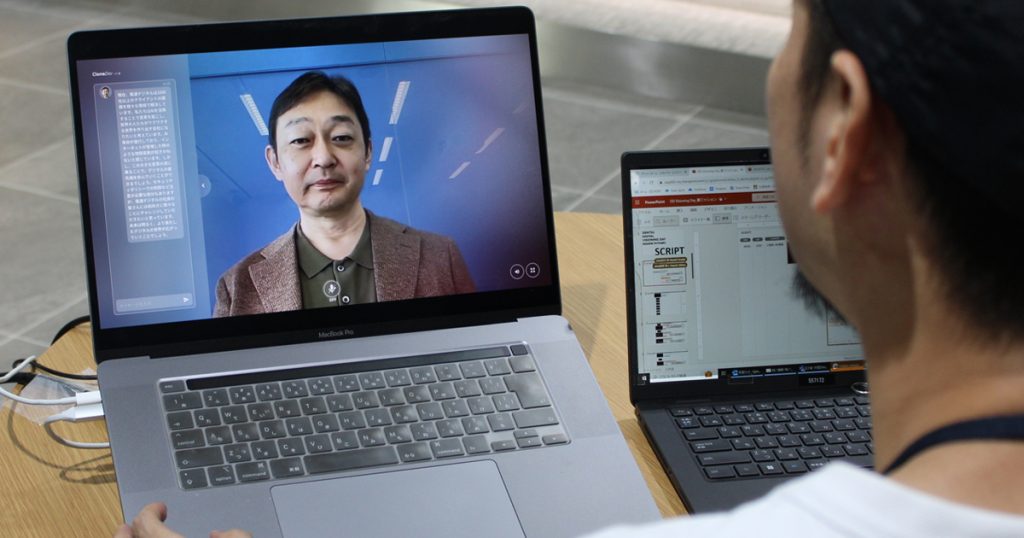 Mr. Takimoto asked his clone if it could work virtually on his behalf;
the clone readily agreed, saying, "The real Mr. Takimoto can take the day off and I'll handle everything for him."
Digital clones are expected to play an active role in a variety of applications in the near future, such as efficient information sharing and decision-making support. They are also set to become an important factor in promoting corporate growth and development by improving and enhancing internal communication and accelerating decision-making.
With this actual case of providing digital clones to a company, alt will expand the use of LLMs (large language models) and personal clones, continue to pursue new frontiers in communication and the digitization of humanity as a whole, and, through the development and provision of "CLONEdev," provide more and more corporations with innovative means of communication. 
▶For inquiries about CLONEdev
■ About alt Inc.
Founded in November 2014, alt is a venture company that "aims to free people from unproductive labor" by creating P.A.I.®️ (Personal Artificial Intelligence) and AI clones.  We also develop and provide SaaS products such as AI GIJIROKU, which utilizes speech recognition technology derived from the development of AI dialogue engines. 3.5 billion yen was raised in a Series D funding round in June 2022, bringing our total amount raised to 6.2 billion yen.
<Media Inquiries to:>
Misako Nishizawa (Media Relations)
e-mail:press@alt.ai
<Alliance Inquiries to:>
We provide AI solutions and support regardless of genre, including IT, finance, construction, logistics, media, manufacturing, retail, and service industries.
Please feel free to contact us.
Katsuya Asai (AI Solutions Business Department)
e-mail:clonedev@alt.ai
Or, please contact us at the URL below to set up a meeting with our representative.
https://calendly.com/moeno-komatsu/15min-pr