2023/05/24
alt Inc. announces Alpha Version of altBRAIN No-Code Agent Generation Platform
〜Exploring new possibilities for communication with a next-generation platform based on LHTM-2〜
alt Inc.(https://alt.ai/en/), a Japan based developer of AI Clone and Personal Artificial Intelligence (P.A.I.®️) (Head Office: Minato-ku, Tokyo, Japan; CEO: Kazutaka Yonekura), is pleased to announce the "altBRAIN" (https://altbrain.ai/), a no-code agent generation platform based on our large-scale language model, LHTM-2. We are pleased to announce the alpha version.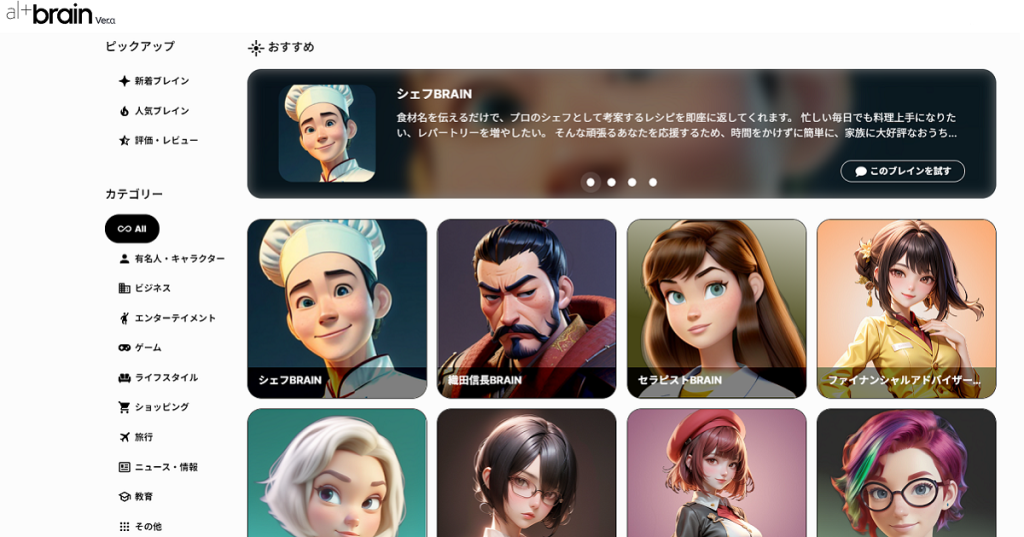 An "agent" is a common name for software that executes a process on behalf of a human being. altBRAIN is a platform that allows users to easily create a wide variety of agents without code. The platform has already been used to create agents for Nobunaga Oda and other historical figures and celebrities, game capture agents, and medical interview agents for use in internal medicine, pediatrics, and other medical specialties. The alpha version offers 20 types of agents, all free of charge. The official launch of this service is scheduled for July 2023, at which time we aim to offer more than 100 agents.
altBRAIN harnesses the power of LHTM-2, a large-scale language model developed and maintained by alt. A key feature of this platform is its ability to automatically generate agents across various platforms such as LINE, Slack, and Discord. With the ease of creating LINE Bots and more, it opens up unexplored territories in the realm of communication. Moreover, this platform's adaptability allows for prompt responses to the rapidly escalating demands for large-scale language models. Consequently, agents for a multitude of applications, ranging from entertainment to expert systems and corporate FAQ systems, can be constructed swiftly.
alt looks forward to growing the platform's user base as well as developing agents for a variety of companies on a contract basis.
Implementing LHTM-2 in a no-code environment for large-scale language models, with a focus on factual outputs, represents a new challenge that alt is eager to accept. By providing a platform that eases the creation of practical use cases, alt aims to forge the next era of communication and deliver groundbreaking experiences to users.
▶For inquiries about altBRAIN, please contact
■ About alt Inc.
Founded in November 2014, alt is a venture company that "aims to free people from unproductive labor" by creating P.A.I.®️ (Personal Artificial Intelligence) and AI clones. We also develop and provide SaaS products such as AI GIJIROKU, which utilizes speech recognition technology derived from the development of AI dialogue engines. 3.5 billion yen was raised in a Series D funding round in June 2022, bringing our total amount raised to 6.2 billion yen.
https://alt.ai/en/

<For inquiries regarding the press>
alt Inc., Public Relations, Misako Nishizawa
TEL: 03-6455-4677 e-mail: press@alt.ai


<For inquiries regarding the alliance>
alt Inc., AI Solutions Division Katsuya Asai
TEL: 03-6455-4677 e-mail: altbrain@alt.ai