2021/07/14
【Speakers announced!】 alt Inc. "Clone Conference 3" Wednesday, July 21, 13:00
Personal Artificial Intelligence (P.A.I.) developer alt Inc. (Head office: Minato-ku, Tokyo, Japan, CEO: Kazutaka Yonekura), announces all the speakers for the "Clone Conference 3" to be held online on Wednesday, July 21 from 1:00 pm.

> > To attend, please fill out the registration form below! < <
https://event.alt.ai/clone-conference-3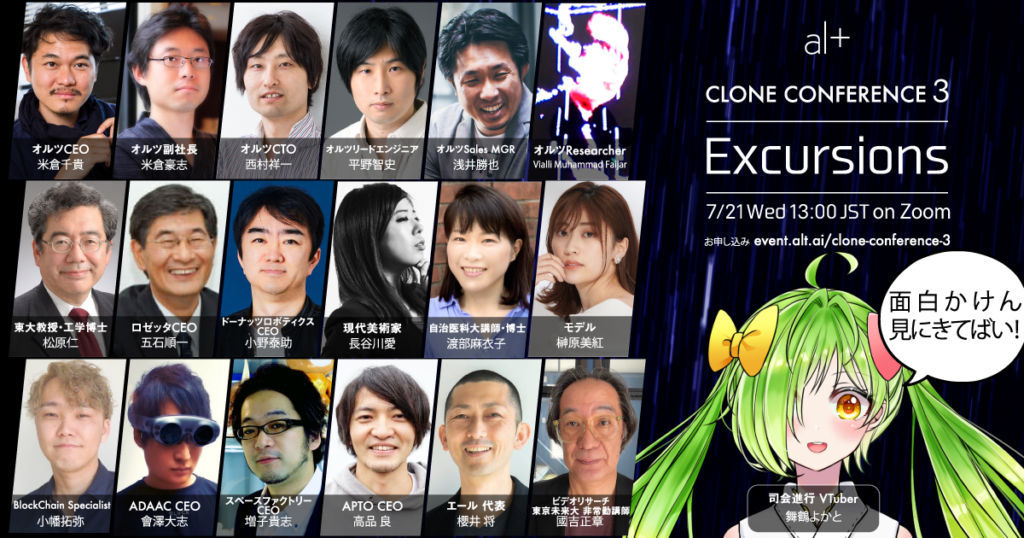 From AI researchers to managers, sociologists, artists, and Vtubers, a total of 19 people will discuss digital cloning!
Here are 19 intellectuals from various fields who will discuss the social implementation of digital cloning, cutting-edge innovations by Japanese startups, and the changing views of life and death due to technology.
(honorifics omitted / in no particular order)
Hitoshi Matsubara Professor, University of Tokyo / Doctor of Engineering
Junichi Goishi President, Rosetta Inc.
Taisuke Ono CEO, Donut Robotics
Ai Hasegawa, Contemporary Artist
Maiko Watanabe, Lecturer, Jichi Medical University School of Medicine / Doctor (Science, Technology and Society)
Mikoh Sakakibara Model / Radio Personality
Taishi Aizawa, CEO, ADAAC Corporation / ARCHITECT
Takashi Masuko CEO, Space Factory Inc.
Ryo High Quality CEO, APTO Inc.
Masaru Sakurai President, Yale Corporation
Masaaki Kuniyoshi, Video Research Ltd. / Part-time Lecturer, Tokyo Mirai University
Yokato Maizuru, VTuber

Kazutaka Yonekura, CEO, alt
Goshi Yonekura, Vice President, alt
Shoichi Nishimura, CTO, alt
Takuya Obata, BlockChain Specialist, alt
Tomofumi Hirano Lead Engineer, alt
Katsuya Asai General Manager, alt
Vialli Muhammad Faijar Researcher, alt
Session Contents
Technology / Life and Death / Innovation: A Journey in Between
Part I: R&D Division
 alt Digital Clone R&D Progress Presentation
 alt ID Platform
 Trilogy: Ethics, Death and Life of Digital Clones
Part 2: Business Sector
 AI GIJIROKU
 AI Call Center
 Collaboration with leading AI companies
 Business Unit Panel Discussion
Part 3: Panel Discussion
 Panel Discussion "Feast of Innovation Addicts
【Date】Wednesday, July 21, 13:00 - 16:00 (May be extended significantly)
【Outline】 Clone Conference 3 - Excursions
【Cost】 Free
The event will be broadcasted simultaneously via Zoom and YouTube Live.
【Deadline for registration】 Tuesday, July 20, 15:00
The event will be broadcast simultaneously on Zoom and YouTube Live.
      >> https://event.alt.ai/clone-conference-3 < <
--- About Us ---
Company name : alt Inc.
Website : https://alt.ai/en/
Address: 9F SENQ Roppongi,Shin-Roppongi bldg. 7-15-7 Roppongi, Minato-ku, Tokyo, Japan
Representative: Kazutaka Yonekura, CEO
Establishment : November 2014
Business description : Development and provision of P.A.I. (Personal Artificial Intelligence).
[P.A.I.]
P.A.I. (Personal Artificial Intelligence) is an AI that aims to digitize our own narrative and place it in the cloud to perform all digital tasks.

*P.A.I. 
"P.A.I." is a registered trademark of alt.
Concept movie of P.A.I. : 
https://www.youtube.com/watch?v=AqTDorosHwY


--- Our AI solutions (Partial)---
◆Inquiries for our AI solutions
https://alt.ai/aiprojects/en


◆AI GIJIROKU (AI Minutes)" official website:
https://gijiroku.ai/en


◆The world's first AI clone questionnaire "Nulltitude" official website
https://nulltitude.ai/en


◆"NeoRMR" Operator AI Support System official website
https://alt-technologies.com/rmr/en


◆"AI TSUYAKU (AI Interpreter)" official website
https://tsuyaku.ai/


◆"AI Call Center" Official Website
https://aicallcenter.ai/
<For inquiries regarding the press and media>    
Public Relations representative : Misako Nishizawa
Phone : +81-3-6380-7076
E-mail: press@alt.ai
<For inquiries regarding the event>    
Public Relations representative : Yusuke Kato
Phone : +81-3-6380-7076
E-mail:  event@alt.ai