2021/01/29
【Event】alt Inc. holds a DX Promotion Webinar in collaboration with Zoom Japan Corporation ZVC JAPAN
Personal Artificial Intelligence (P.A.I.) developer alt Inc. (Head office: Minato-ku, Tokyo, Japan, CEO: Kazutaka Yonekura), has announced that on Tuesday, February 9, ZVC JAPAN K.K. (Head office: Chiyoda-ku, Tokyo, CEO: Koichi Okamoto, hereinafter "Zoom"), the Japanese subsidiary of Zoom Video Communications, a U.S. company that produces the Zoom video conferencing system, announced that they would be using our AI GIJIROKU (AI Minute Book) to communicate with its customers. (Head office: Chiyoda-ku, Tokyo, CEO: Koichi Okamoto, hereinafter "Zoom") will co-host a webinar on Tuesday, February 9 to introduce the characteristics of Zoom and how to promote DX using our AI GIJIROKU (AI Minutes) https://gijiroku.ai/en
>>To register, please visit https://alt.ai/event/gijiroku.
Special Offer: 1-month free trial code for AI GIJIROKU!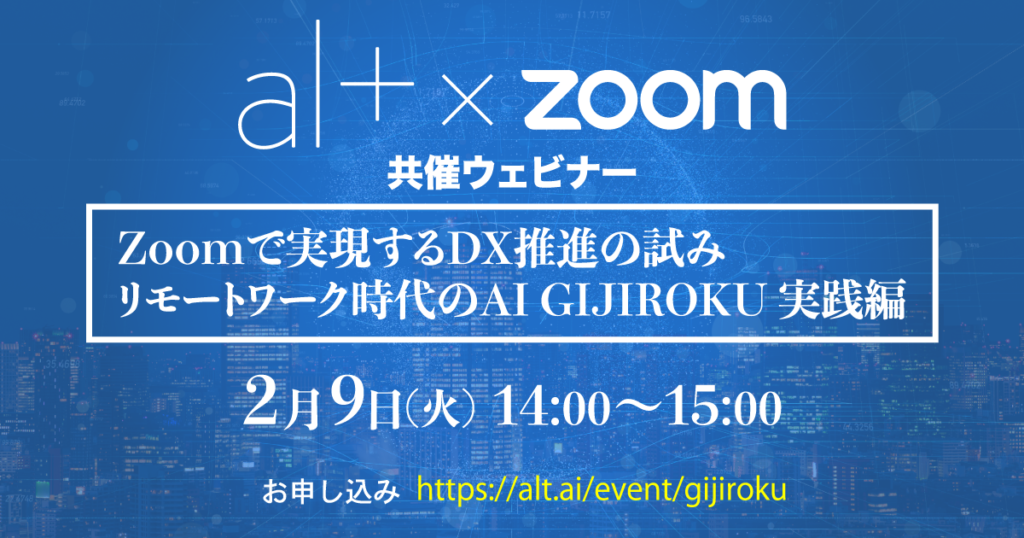 ■Attempting to Promote DX with Zoom / AI GIJIROKU in the Era of Remote Work
Zoom Video Communications, Inc., a company with worldwide influence, will present its DX methods and examples for companies and local governments, and at the same time, will show you how to use AI GIJIIROKU, which utilizes artificial intelligence to realize smart meetings.
■Highlights
AI GIJIROKU has grown to become one of the largest AI solutions in Japan, with more than 500 companies using it and tens of thousands of users, and in collaboration with Zoom, we will introduce a successful DX case study that opens up a new era.
We look forward to seeing you there!
■Date: Tuesday, February 9, 14:00 - 15:00
■Headline : Attempt to promote DX realized by Zoom / AI in the age of remote work GIJIROKU in practice
■Cost : Free
■Format: Online *Zoom will be used.
■Participation privilege: You will receive a trial code to use AI GIJIROKU free of charge for one month!
■Registration
>>to attend, please register at the following URL
https://alt.ai/event/gijiroku
◆AI GIJIROKU" official website
https://gijiroku.ai/en
◆"AI GIJIROKU (AI Minutes)" concept video
https://youtu.be/KNjdqUvKZp8
◆AI GIJIROKU sales partner details page
https://gijiroku.ai/en/partner-company-en/
--- About Us ---
Company name : alt Inc.
Website : https://alt.ai/en/
Address: 9F SENQ Roppongi,Shin-Roppongi bldg. 7-15-7 Roppongi, Minato-ku, Tokyo, Japan
Representative: Kazutaka Yonekura, CEO
Establishment : November 2014
Business description : Development and provision of P.A.I. (Personal Artificial Intelligence).
[P.A.I.]
P.A.I. (Personal Artificial Intelligence) is an AI that aims to digitize our own narrative and place it in the cloud to perform all digital tasks.

*P.A.I. 
"P.A.I." is a registered trademark of alt.
Concept movie of P.A.I. : 
https://www.youtube.com/watch?v=AqTDorosHwY
<For inquiries regarding this event>    
Public Relations representative : Misako Nishizawa
Phone : +81-3-6380-7076
E-mail: press@alt.ai