2021/06/09
Launch of "alt ID" Operation. Full-Scale Digital Cloning of Individuals through the Integration of All Services
Personal Artificial Intelligence (P.A.I.) developer alt Inc. (Head office: Minato-ku, Tokyo, Japan, CEO: Kazutaka Yonekura), has started operating "alt ID".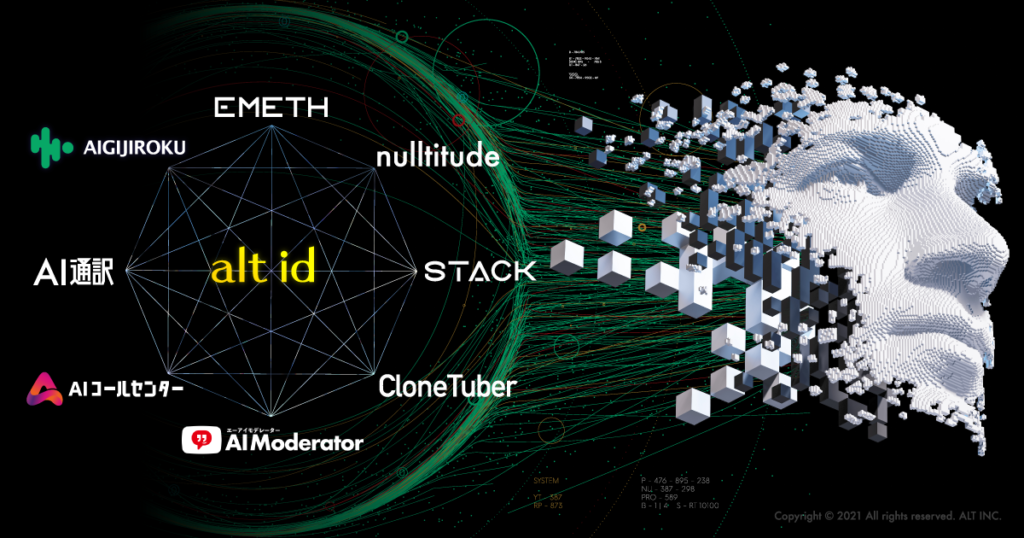 ■Overview
alt ID is an integrated management system that allows users to use a single ID for the various services provided by alt. Users of various services provided by alt, such as "AI GIJIROKU," will be able to access other alt services automatically (i.e., single sign-on). As a result, our services will be integrated and linked by "alt ID" and will function as a platform for artificial intelligence services.
■Individuality Learning
Each of alt's services is designed to reflect the user's unique thoughts and values in the service by using the user's behavior as learning material and improve the user's convenience. The services linked by "alt ID" will mutually reflect the models learned in each service. All services included in the platform will be optimized for each individual (i.e., each user).
■Digital Clone Generation and the Achievement of Individual DX
The individual values (personality model) associated with "alt ID" can be used to generate digital clones of users. The digital clone generated will have the same values as the user, and will make decisions on behalf of the user based on such values, thereby achieving individual DX.
--- About Us ---
Company name : alt Inc.
Website : https://alt.ai/en/
Address: 9F SENQ Roppongi,Shin-Roppongi bldg. 7-15-7 Roppongi, Minato-ku, Tokyo, Japan
Representative: Kazutaka Yonekura, CEO
Establishment : November 2014
Business description : Development and provision of P.A.I. (Personal Artificial Intelligence).
[P.A.I.]
P.A.I. (Personal Artificial Intelligence) is an AI that aims to digitize our own narrative and place it in the cloud to perform all digital tasks.

*P.A.I. 
"P.A.I." is a registered trademark of alt.
Concept movie of P.A.I. : 
https://www.youtube.com/watch?v=AqTDorosHwY


--- Our AI solutions (Partial)---
◆Inquiries for our AI solutions
https://alt.ai/aiprojects/en


◆AI GIJIROKU (AI Minutes)" official website:
https://gijiroku.ai/en


◆The world's first AI clone questionnaire "Nulltitude" official website
https://nulltitude.ai/en


◆"NeoRMR" Operator AI Support System official website
https://alt-technologies.com/rmr/en


◆"AI TSUYAKU (AI Interpreter)" official website
https://tsuyaku.ai/


◆"AI Call Center" Official Website
https://aicallcenter.ai/


◆"AI Moderator" official website
https://aimoderator.ai/
<For inquiries regarding the press and media>    
Public Relations representative : Misako Nishizawa
Phone : +81-3-6380-7076
E-mail: press@alt.ai