2023/03/01
Clearing function introduced to AI GIJIROKU
AI GIJIROKU, Japan's most popular AI meeting minutes service, now includes clearing, AI summary, bookmark, agenda, and free memo functions in a one-stop platform for writing meeting minutes
alt Inc.(https://alt.ai/en/), a Japan based developer of AI Clone and Personal Artificial Intelligence (P.A.I.®️) (Head Office: Minato-ku, Tokyo, Japan; CEO: Kazutaka Yonekura), pleased to announce that AI GIJIROKU, an AI automated minutes tool, now includes a new "Clearing function".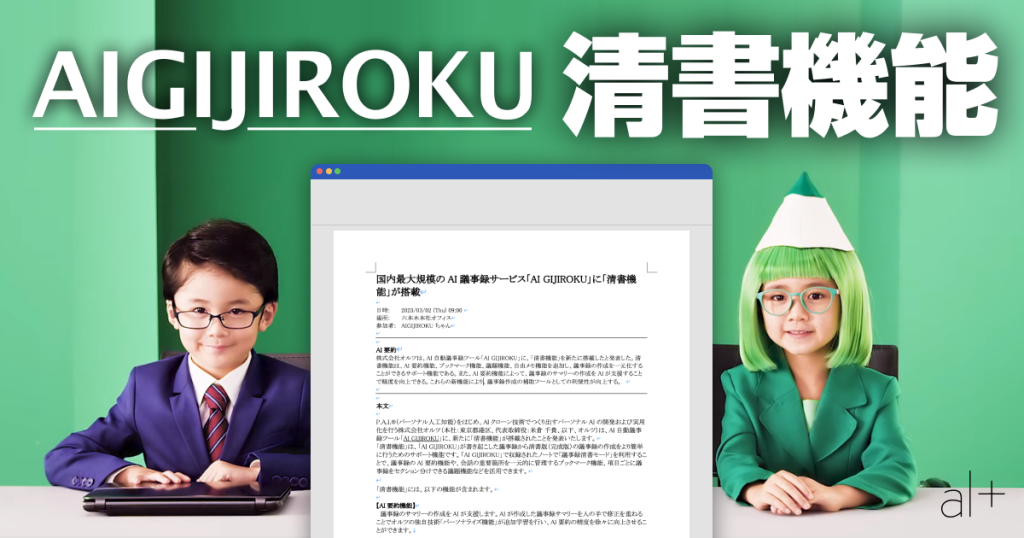 AI GIJIROKU's new Clearing feature makes it easier to create a clearer (finished) version of minutes transcribed using the software.
By using the Minutes Clearing Mode on notes recorded by AI GIJIROKU, users can take advantage of the AI summary function to get an accurate overview of the meeting, the bookmark function to centrally manage important parts of the conversation, and the agenda function to divide the minutes into sections by item.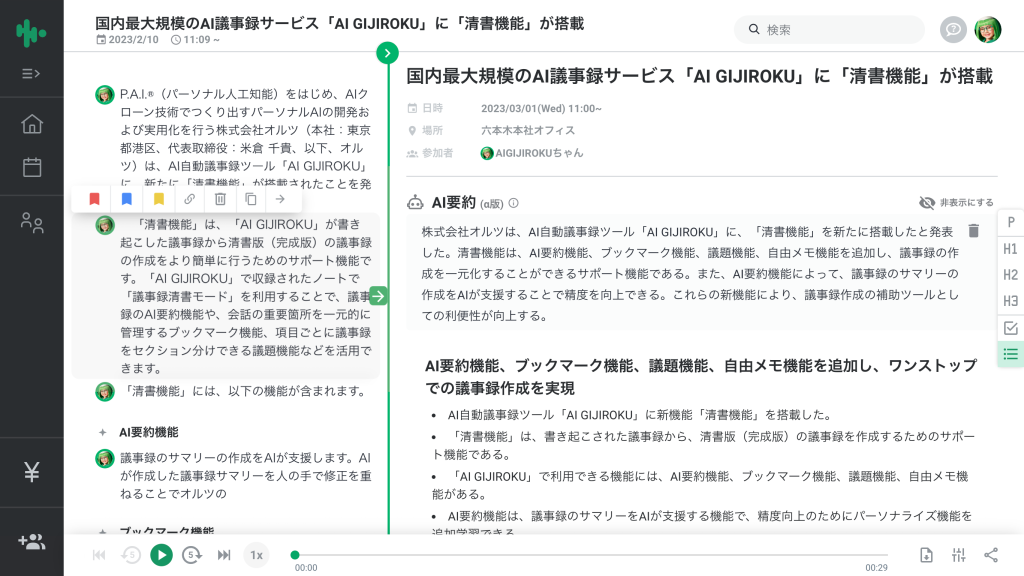 ▲Demo screen of the "Clearing function"
The Clearing feature includes the following functions:
【AI Summary function】
Our Summary feature efficiently creates summaries of meeting minutes. By making multiple rounds of revisions to the AI-generated meeting summaries, the Personalization feature, a proprietary Orts technology, can perform additional learning and gradually improve the accuracy of the summaries.
*AI GIJIROKU AI summary function Reference URL: https://alt.ai/news/news-1914/
【Bookmark function】
The existing bookmark function has been renewed to allow three types of bookmarks to be assigned to minutes: "Important," "TODO," and "Memo." Items marked as "Important" and "TODO" can be listed in the Minutes Clearing Mode, while notes can be added individually to the "Memo" bookmarks.
【Agenda function】
During transcription, minutes can be divided into sections by the Agenda function. This makes it easier to refer to the minutes by agenda, and also makes it possible to play back the audio from a specific point in the minutes to check their content.
【Free memo function】
Individual notes can be freely created, including headings and checkboxes.
With these new functions, AI GIJIROKU now provides one-stop transcription, various types of memos, and document cleanup, making it even more convenient as a complete auxiliary tool for taking minutes.
AI GIJIROKU has been used by business people and students in a wide range of fields and occupations, and we will continue to make regular upgrades to help build a society where all people can enjoy greater efficiency at work.
▶ For inquiries regarding the introduction of AI GIJIROKU
https://gijiroku.ai/company-contact/
【AI GIJIROKU Free Webinar Information!】
Date:Wednesday, March 22, 2023 14:00~15:00
Summary:A webinar to explain how to use AI GIJIROKU thoroughly!
Method:Free online seminar *Zoom will be used.
Application URL:https://event.alt.ai/aigijiroku_2023mar22
■ "Minutes already taken at the end of the meeting" 
      What is the AI GIJIROKU automatic transcription tool?
AI GIJIROKU is an automated meeting minutes tool that improves transcription accuracy with each use of its AI learning function. It supports real-time simultaneous translation in more than 35 major languages and boasts 99.8% speech recognition accuracy, even in specialized industries such as finance, medical, pharmaceutical, chemical, and construction. It can personalize sentences automatically learned from users' SNS, e-mail, and dictionary data, and personalize speaker identification by identifying users' voiceprints.
■ About alt Inc.
Founded in November 2014, alt is a venture company that "aims to free people from unproductive labor" by creating P.A.I.®️ (Personal Artificial Intelligence) and AI clones. We also develop and provide SaaS products such as AI GIJIROKU, which utilizes speech recognition technology derived from the development of AI dialogue engines. 3.5 billion yen was raised in a Series D funding round in June 2022, bringing our total amount raised to 6.2 billion yen.
https://alt.ai/en/

<For inquiries from the press>
alt Inc., Public Relations, Misako Nishizawa
TEL: 03-6455-4677 e-mail: press@alt.ai

<For inquiries regarding the alliance>
alt Inc., Sales, Tatsuya Kawaguchi
TEL: 03-6455-4677 e-mail: gijiroku@alt.ai