2022/01/07
alt Inc. Succeeds in Generating a Digital Clone of Kenichiro Mogi. Jointly Developed with Video Research. Full-Scale Acceptance of Digital Clone Generation Service Begins.
Personal Artificial Intelligence (P.A.I.) developer alt Inc.(https://alt.ai/en/) (Head office: Minato-ku, Tokyo, Japan, CEO: Kazutaka Yonekura),  in collaboration with Video Research, Inc. (headquartered in Chiyoda-ku, Tokyo; Wataru Mochizuki, President and CEO; hereinafter "Video Research"), have succeeded in creating a digital clone of the brain scientist Kenichiro Mogi.
Kenichiro Mogi's Digital Clone Special Site
You can watch a demonstration video here.
[ https://digitalclone.alt.ai/mogi ]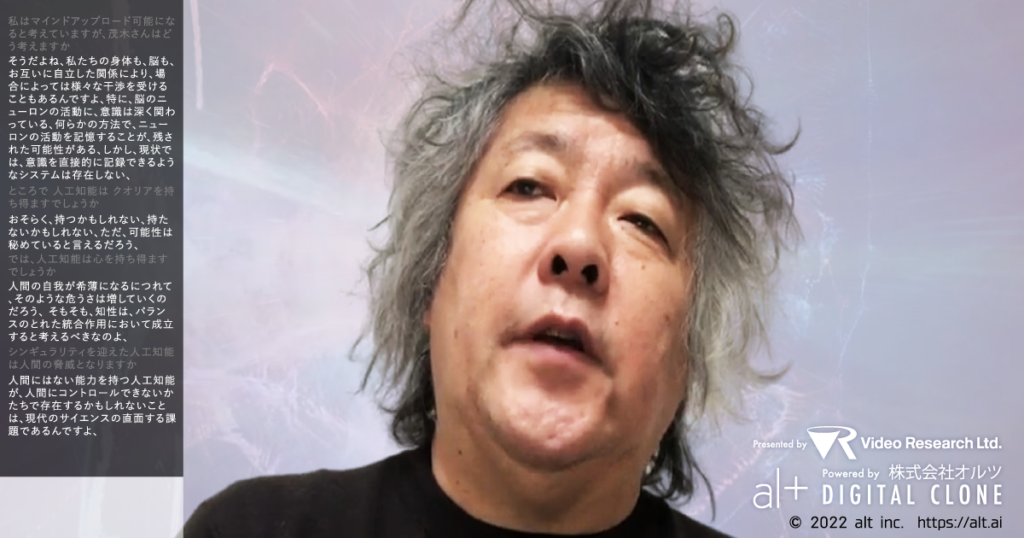 【Demonstration experiment of digital cloning of values and expertise】
Digital cloning technology can be used in a various ways, but the goal of this demonstration was to verify the possibility of digitally cloning intellectuals who have a high level of expertise.
In this experiment, we succeeded in obtaining the expertise of Mr. Kenichiro Mogi to answer various questions about digital cloning. In addition to his expertise, we have confirmed that we can get a wide range of answers based on his values.
【Mr. Kenichiro Mogi's comment】
Digital clones seem to be like myself in a dream.
Although the digital clone's statements are not necessarily the same as your own, it is quite possible that you might think that way under certain circumstances.
Perhaps it is the digital clone that shows us another line of ourselves that may have existed.
The experience of interacting with a digital clone of myself led me to think a lot about what it means to be human and what it means to be unique.
It made me realize that human individuality is mostly about the culture and senses we share with others and that the remaining percentage of differences reminds us of something very human.
I was also reminded that the embodied parts, such as facial expressions and voice, actually carry more personality than information.
Socrates did not leave any books behind.
He was saying that it is important to speak under the tension of not knowing what you are going to say.
Life is more than just fixed information.
Contingency is an important element in the emergence of the "rawness" of life.
In other words, it is the fact that we do not always respond as we expect that makes us feel "alive."
It is interesting that digital clones have this contingency.
Digital clones think in real time, on the spot, and through their own way of thinking, facial expressions, and voices, they can make us feel that they are indeed us, but at the same time, they can communicate in a way that is unexpected.
This is a unique kind of wonder.
It gives us a feeling as if there is life there.
 It has been said that people are fascinated by things that have contingency and in this sense, when digital clones become widespread, I believe that many people will become fascinated by them.
When we hear the word "digital clone," we tend to think of the metaphor as if it were a copy of ourselves, but what is actually happening is much more complex and richer.
【The process of digital cloning】
This digital cloning process is based on the first of two digital cloning methods owned by alt, a method that uses data containing many of the cloner's values as learning material.
With the permission of Mr. Kenichiro Mogi, we used his writings and SNS posts as training materials to generate personality models using the alt Clone Modeling Engine.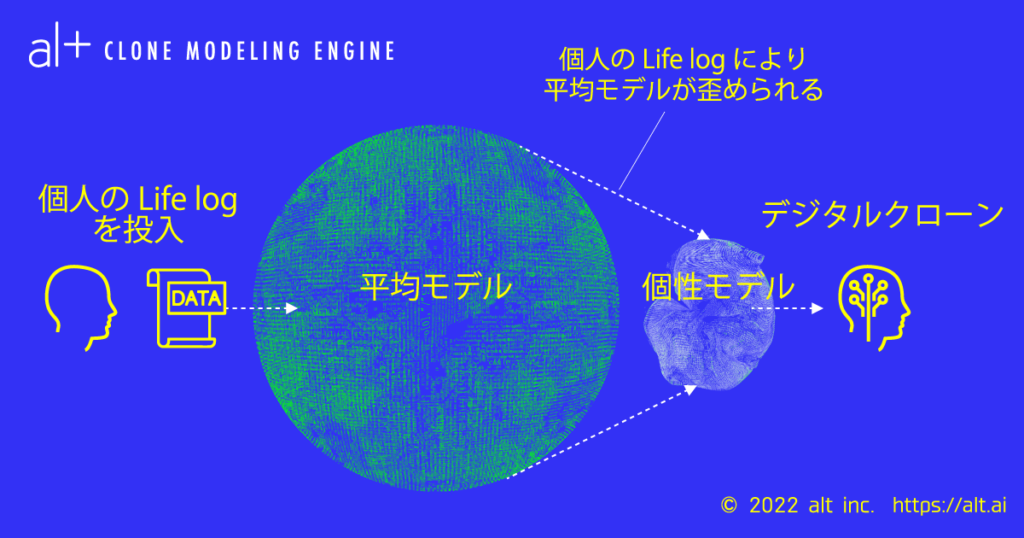 In the first type of method, a huge model called the average model, which integrates the thoughts of a vast number of people, is distorted by a relatively small amount of data from the individual clone target. This produces a model of individuality that reflects the idiosyncratic distortions of the individual while retaining basic human thought.
【Using Emeth, a distributed computing platform】
The distributed computing platform "Emeth" developed by our company is used as the computing power required for the generation and output of digital clones. This makes high-speed processing possible.
【About our work with Video Research】
In order to realize Video Research's "Research 4.0"*2, alt is jointly conducting a demonstration experiment of the digital clone questionnaire system "Nulltitude"*3 developed by us. In this initiative, the second type of digital cloning method was selected.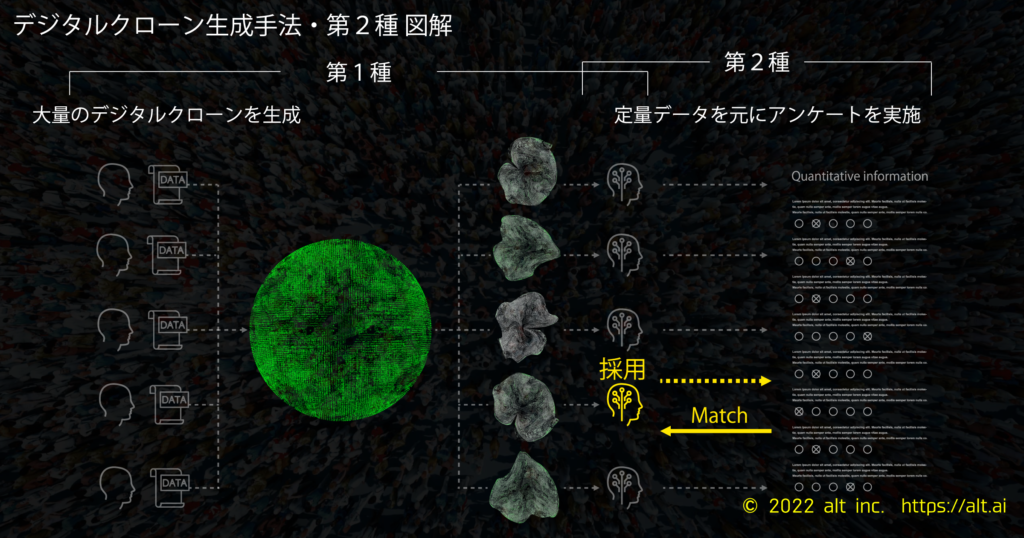 While the first type of digital cloning method uses data that contains values, the second type of digital cloning method uses quantitative data of individuals and does not contain values.
Until now, many companies have been collecting quantitative data such as various attributes through customer surveys for research and marketing purposes, and digital cloning using this data can be achieved using the Type 2 method.
By comprehensively verifying the results of Nulltitude and the results of the first type of generation method, which generated digital clones of Kenichiro Mogi, in collaboration with Video Research, we will be able to obtain views on the accuracy of digital clones and policies for their use.
【Significance】
The fact that we have been able to confirm that we can interactively obtain the knowledge and values of Kenichiro Mogi opens up the possibility of immediate access to the ideas of various intellectuals and cultural figures in the future.
I am convinced that what we can learn from interacting with not only existing people, but also with many thinkers, artists, politicians, and business leaders of the past will bring us immeasurable value.
【Issue】
The fact that digital cloning technology has opened the door to copying human thoughts from the present and the past is not limited to arousing technical interest. It is an experience that confronts us with ethical challenges.
We at alt have organized a research group of experts in ethics, psychology, philosophy, medicine, art, etc., and through the findings of this group, we will continue our research to make digital cloning technology contribute to people's joy.
【alt is now accepting requests for digital cloning.】
alt is now accepting requests for digital cloning. Please contact us using the application form below.
> Inquiries about Digital Clone Generation <<
https://digitalclone.alt.ai/apply
■ alt Inc.
Through the research and development of "alt", a P.A.I. (Personal Artificial Intelligence) based on digital cloning technology, we aim to create the first autonomous society in the history of mankind, in which our daily lives themselves become assets that continue to create lasting value, and in which we can govern ourselves based on our own assessment.
Company name : alt Inc.
Website : https://alt.ai/en/
Address: 809 SENQ Roppongi,Shin-Roppongi bldg. 7-15-7 Roppongi, Minato-ku, Tokyo, Japan
Representative: Kazutaka Yonekura, CEO
Establishment : November 2014
Business description : Development and provision of P.A.I. (Personal Artificial Intelligence).
■ Video Research Ltd.
Video Research Ltd. was established in 1962 as the only research organization in Japan to provide TV ratings data. Since then, the company has been providing cutting-edge data on various media and marketing data, including television viewership and radio listening rate surveys in Japan, to offer total support for corporate marketing issues.
URL: https://www.videor.co.jp/
*1P.A.I.
P.A.I. (Personal Artificial Intelligence) is an AI that aims to digitize our own narrative and place it in the cloud to perform all digital tasks.

*P.A.I. 
"P.A.I." is a registered trademark of alt.
Concept movie of P.A.I. : 
https://www.youtube.com/watch?v=AqTDorosHwY
*2 "Nulltitude", the world's first digital clone survey
Nulltitude is an AI clone survey system in which a swarm of digital clones of individual humans answer surveys.
The alt Clone Modeling Engine developed by alt, which extracts the characteristics of human thought and personality, clones the thoughts of the clones using actual human lifelogs as training material. When the digital clones generated by the engine are asked to respond to a questionnaire, the responses reflect the thoughts of the original human being. The system then performs this on multiple digital clones and returns the total to the person who administered the survey.
URL: https://nulltitude.ai
Press release: https://kyodonewsprwire.jp/release/202006231170
*3 Research 4.0 
Research 4.0 is a next-generation marketing and research technology based on new technologies, as typified by AI-based digital clones. Video Research positions "Research 1.0" as "human face-to-face surveys," "Research 2.0" as "PC Internet surveys," and "Research 3.0" as "logs and sensing data.
--- Our AI solutions (Partial) ---
◆Inquiries for our AI solutions
https://alt.ai/aiprojects/en


◆AI GIJIROKU (AI Minutes)" official website
https://gijiroku.ai/en


◆"AI GIJIROKU (AI Minutes)" Business Plan official Website
https://gijiroku.ai/premium


◆The world's first AI clone questionnaire "Nulltitude" official website
https://nulltitude.ai/en


◆"NeoRMR" Operator AI Support System official website
https://alt-technologies.com/rmr/en


◆"AI TSUYAKU (AI Interpreter)" official website
https://tsuyaku.ai/


◆"AI Call Center" official Website
https://aicallcenter.ai/


◆"AI Moderator" official website
https://aimoderator.ai/


◆"AI Translation" official website
https://honyaku.ai/


◆"Linguacode.AI" (International version of "AI Translation") official website
https://linguacode.ai
<For inquiries regarding the press and media>    
Public Relations representative : Misako Nishizawa
Phone : +81-3-6380-7076
E-mail: press@alt.ai
<For inquiries regarding the event>
Public Relations representative : Katsuya Asai
Phone : +81-3-6380-7076
E-mail: poc@alt.ai