2022/11/08
alt Inc. releases free whitepaper on its next-generation voicebot, AI Call Center. Lots of useful information to help you understand the rapidly growing voicebot market!
Personal Artificial Intelligence (P.A.I.) developer alt Inc.(https://alt.ai/en/) (Head office: Minato-ku, Tokyo, Japan, CEO: Kazutaka Yonekura), will release a series of free white papers that will help users resolve their questions, including basic information for voicebot beginners, automation of telephone operations using AI, benefits of call center implementation, and examples of use.
The AI Call Center (https://aicallcenter.ai/) is a spoken dialogue AI solution that enables "free dialogue with AI" using natural language processing technology. alt has cultivated its NLP technology over many years of research and development to meet the needs of call centers in the new normal era.
> Video introduction to the AI Call Center <
https://youtu.be/oktj89pSn4M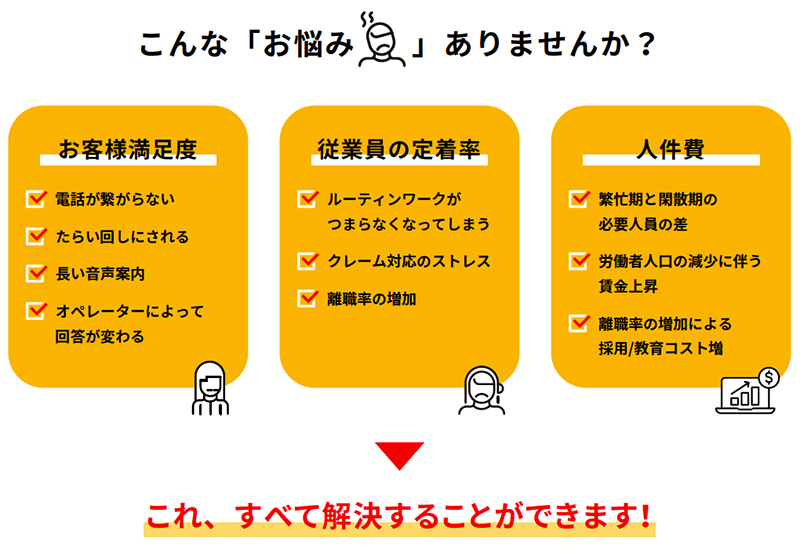 【AI Call Center White Paper Introduction】
■ 1. AI Call Center "First Steps
https://share.hsforms.com/1goYyOjOQSHCeDrLtzj3vXA5mb23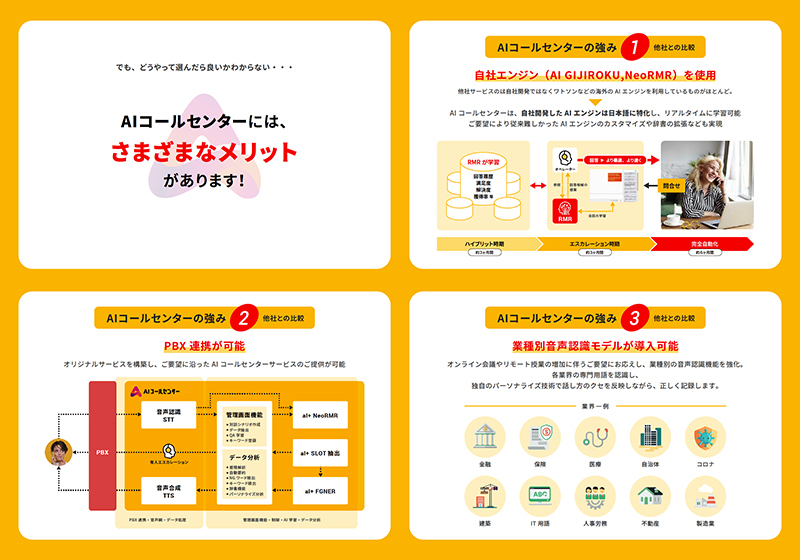 This whitepaper provides a wide range of information for those who are interested in or considering implementing AI voicebots, from "What is an AI call center?" to the benefits of introducing AI voicebots and example use cases for businesses in a variety of industries.
The white paper is an instructional guide to help you decide whether or not to implement an AI voicebot and how to proceed.
■ 2. AI call center "what is a voice bot?"
https://share.hsforms.com/1EsSfiEPoSAqCYsPsbhjbQQ5mb23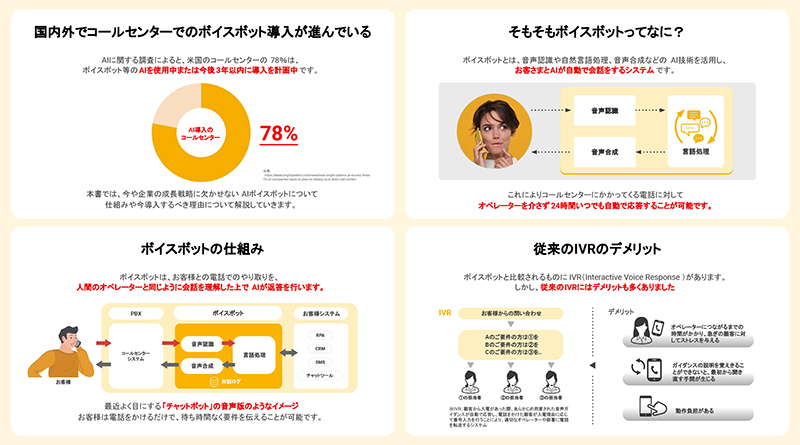 Voicebots use AI technologies such as speech recognition, natural language processing, and speech synthesis to enable automated conversations between customers and AI. Voicebots are capable of automatically answering calls to call centers 24 hours a day, 7 days a week, without the need for an operator. According to a survey, 78% of U.S. call centers are planning to implement such a system within the next three years.
Here, we explain how AI voicebots are essential to a company's growth strategy, how they work, and why you should implement them now.
Would be great if you could say which survey and when it was conducted!
■ 3. AI Call Center "Case Studies
https://share.hsforms.com/1b9tjjFhqTjGqPPKuapA2Dw5mb23
An AI Call Center can replace the telephone operation needs of all types of businesses, including service, retail, restaurants, local governments, and insurance companies. It can meet a variety of business needs, such as automating call-handling operations, enhancing customer contact, and increasing sales. alt's AI Call Center can also be customized to expand its functions and create dialogue flows on your behalf.
【For successful implementation of AI voicebots】
AI Call Center will be there for you, from understanding your unique specifications to your system integration needs, to the building of new functionality to suit your business. We look forward to being of service to you.
> Click here to download the white paper <
First Steps
What is a Voicebot?
Case Studies
An interview with Representative Yonekura was published.
https://www.smfg.co.jp/dx_link/dxtrend/special/article_39.html
■ alt Inc.
Through the research and development of "alt", a P.A.I. (Personal Artificial Intelligence) based on digital cloning technology, we aim to create the first autonomous society in the history of mankind, in which our daily lives themselves become assets that continue to create lasting value, and in which we can govern ourselves based on our own assessment.
Company name : alt Inc.
Website : https://alt.ai/en/
Address: 807 SENQ Roppongi,Shin-Roppongi bldg. 7-15-7 Roppongi, Minato-ku, Tokyo, Japan
Representative: Kazutaka Yonekura, CEO
Establishment : November 2014
Business description : Development and provision of P.A.I. (Personal Artificial Intelligence).
[P.A.I.]
P.A.I. (Personal Artificial Intelligence) is an AI that aims to digitize our own narrative and place it in the cloud to perform all digital tasks.

*P.A.I. 
"P.A.I." is a registered trademark of alt.
Concept movie of P.A.I. : 
https://www.youtube.com/watch?v=AqTDorosHwY
--- Our AI solutions (Partial) ---
◆Inquiries for our AI solutions
https://alt.ai/aiprojects/en


◆AI GIJIROKU (AI Minutes)" official website
https://gijiroku.ai/en


◆"AI GIJIROKU (AI Minutes)" Business Plan official Website
https://gijiroku.ai/premium


◆The world's first AI clone questionnaire "Nulltitude" official website
https://nulltitude.ai/en


◆"NeoRMR" Operator AI Support System official website
https://alt-technologies.com/rmr/en


◆"AI TSUYAKU (AI Interpreter)" official website
https://tsuyaku.ai/


◆"AI Call Center" official Website
https://aicallcenter.ai/


◆"AI Moderator" official website
https://aimoderator.ai/


◆"AI Translation" official website
https://honyaku.ai/


◆"Linguacode.AI" (International version of "AI Translation") official website
https://linguacode.ai


<For inquiries regarding the press and media>
Public Relations representative : Nishizawa
Phone : +81-3-6380-7076
E-mail: press@alt.ai

<For inquiries regarding the Alliance >    
Sales Representative : Asai
TEL: +81-3-6380-7076
E-mail: gijiroku@alt.ai