2021/06/29
alt Partners with Postal Gift on "AI GIJIROKU" DX Promotion for 400,000 Japan Post Employees
Personal Artificial Intelligence (P.A.I.) developer alt Inc. (Head office: Minato-ku, Tokyo, Japan, CEO: Kazutaka Yonekura), has entered into a sales partnership with Postal Gift Co. (headquartered in Chuo-ku, Tokyo, Japan; Shingo Yamaura, President; hereinafter referred to as "Postal Gift") for the sales partnership of "AI GIJIROKU (AI Minutes)" https://gijiroku.ai, an automatic transcription tool for meeting minutes provided by alt.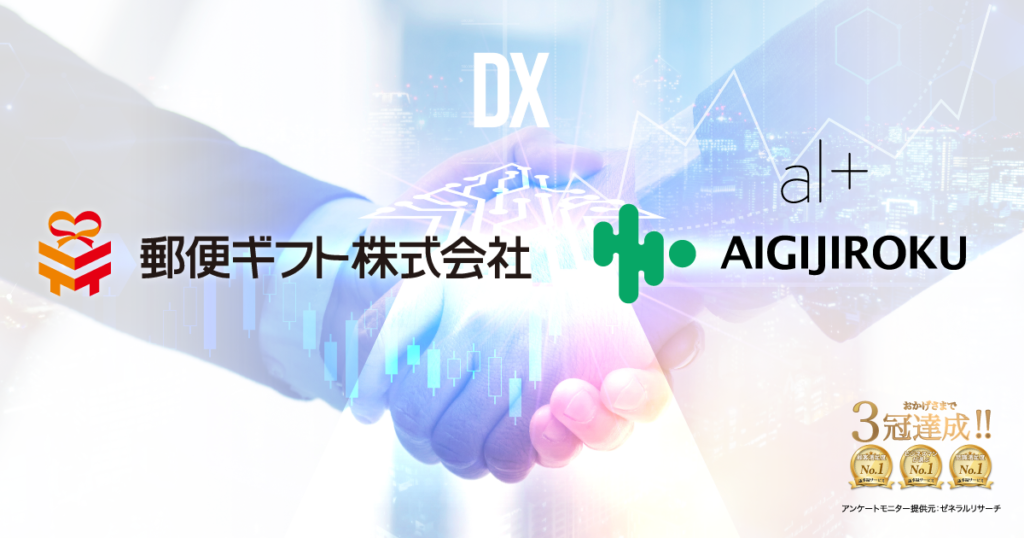 【Outline of the Partnership】
alt and Postal Gift will enter into an exclusive partnership to introduce AI GIJIROKU to the Japan Post Group.
The partnership will promote the introduction of AI GIJIROKU to approximately 24,000 post offices nationwide, as well as Japan Post Bank, JPO Life Insurance, and approximately 400,000 employees (including non-regular employees) of the Japan Post Group.
【Alliance Significance】
This is an initiative aimed at DXing the entire postal business.
At the same time, we aim to contribute to thorough compliance by converting the vast amount of communication exchanged on a daily basis into text data.
【Method of Deployment】
alt, in collaboration with Postal Gift, will establish a trial period for those who wish to use the system and conduct exclusive verification. We will verify the accuracy of minutes for daily operations and meetings, and clarify the convenience and potential of "AI GIJIROKU."
Thereafter, we will create a plan with benefits for approximately 400,000 employees of the Japan Post Group (including non-regular employees) to lower the hurdle for the initial introduction of AI GIJIROKU and promote its speedy introduction.
【What is AI GIJIROKU?】
Improving the productivity of each employee in an organization is now one of the most important issues we need to address. By utilizing AI-related technologies, the research team we have developed "AI GIJIROKU," which converts meeting minutes into text in real-time, instead of transcribing audio recordings or manually entering handwritten notes. We define efficient meetings as "smart meetings," and will not only visualize meetings, but also provide concrete solutions for optimal employee work styles, and contribute to solving social issues such as remote work, which is an important issue these days.
◆AI GIJIROKU (AI Minutes)" official website:
https://gijiroku.ai/en

◆AI GIJIROKU Concept Video
https://youtu.be/KNjdqUvKZp8

◆AI GIJIROKU sales partner details page
https://gijiroku.ai/partner-company/
--- About Us ---
Company name : alt Inc.
Website : https://alt.ai/en/
Address: 9F SENQ Roppongi,Shin-Roppongi bldg. 7-15-7 Roppongi, Minato-ku, Tokyo, Japan
Representative: Kazutaka Yonekura, CEO
Establishment : November 2014
Business description : Development and provision of P.A.I. (Personal Artificial Intelligence).
[P.A.I.]
P.A.I. (Personal Artificial Intelligence) is an AI that aims to digitize our own narrative and place it in the cloud to perform all digital tasks.

*P.A.I. 
"P.A.I." is a registered trademark of alt.
Concept movie of P.A.I. : 
https://www.youtube.com/watch?v=AqTDorosHwY


--- Our AI solutions (Partial)---
◆Inquiries for our AI solutions
https://alt.ai/aiprojects/en


◆AI GIJIROKU (AI Minutes)" official website:
https://gijiroku.ai/en


◆The world's first AI clone questionnaire "Nulltitude" official website
https://nulltitude.ai/en


◆"NeoRMR" Operator AI Support System official website
https://alt-technologies.com/rmr/en


◆"AI TSUYAKU (AI Interpreter)" official website
https://tsuyaku.ai/


◆"AI Call Center" Official Website
https://aicallcenter.ai/


◆"AI Moderator" official website
https://aimoderator.ai/
<For inquiries regarding the press and media>    
Public Relations representative : Misako Nishizawa
Phone : +81-3-6380-7076
E-mail: press@alt.ai
<For inquiries regarding the event>    
Public Relations representative : Asai
Phone : +81-3-6380-7076
E-mail: poc@alt.ai