2023/02/15
alt Inc. launches "alt developer" API service
Connecting speech recognition functionality, P.A.I. built-in AI cloning technology, and automatic machine translation

alt Inc.(https://alt.ai/en/), (Head Office: Minato-ku, Tokyo, Japan; CEO: Kazutaka Yonekura), has launched "alt developer," a new service that provides voice recognition and machine translation functions as an API with built-in AI cloning technology that reproduces human intention and judgment as a digital clone, and Personal Artificial Intelligence (P.A.I.®️) technology.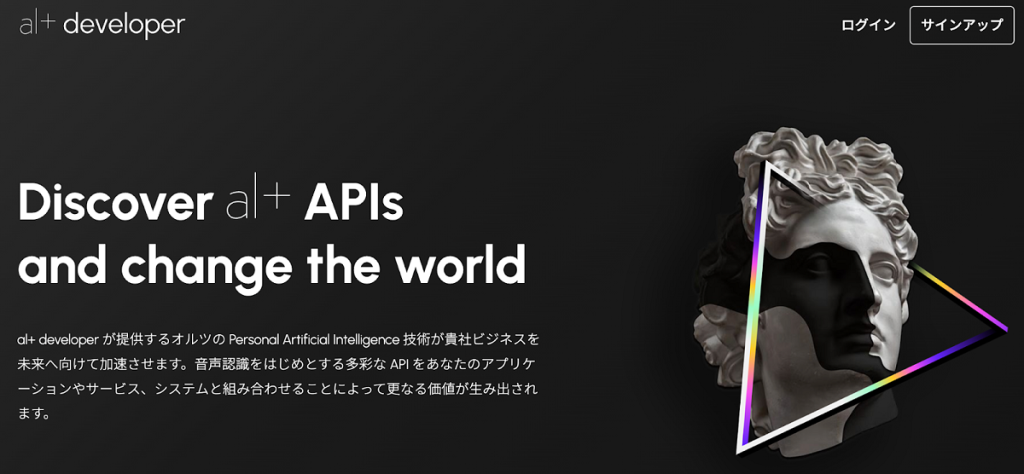 alt is developing and commercializing P.A.I., which works through AI cloning technology, using its dialogue engine to develop SaaS products including AI GIJIROKU and AI Call Center. Together, these services provide cutting-edge AI-based voice recognition technology for a variety of industries.
With the launch of alt developer, we now provide various AI technologies as API services, including speech recognition and machine translation with built-in P.A.I., which can be combined with other applications, services, and systems to accelerate customers' business efficiency.
[Main features of alt developer ]
・"alt STT" speech recognition API
alt STT is the API for our high-precision speech recognition engines, including AI GIJIROKU, an AI automatic minutes tool, as well as industry-specific engines designed to recognize technical terms and phrases in a range of fields. We also plan to make it possible to customize our speech recognition engines.
・"alt Translator" machine translation API 
This is the API for the "AI GIJIROKU" translation engine, which can be used to localize services and build automatic interpretation applications in combination with speech recognition.
You can use our speech recognition and machine translation technologies immediately through "alt developer". If you are already a BORDERLESS VISION K.K. customer and have an alt ID, please log in. Customers who do not yet have an alt ID can use the service immediately by clicking "Sign Up."
In the near future, we will release "alt DIGEST", an automatic summarization API that outputs a summary of the input text based on a nuanced understanding of the context using AI. Also coming soon is "alt Speaker Identifier", a speech synthesis API that utilizes "AI GIJIROKU"'s speaker identification function, which boasts 98.6% accuracy. The API based on various P.A.I. technologies will also be available for use.
Through "alt developer", we will support our customers in creating a better user experience while responding to a wide range of needs, such as software and service development and consulting for DX. In addition, we will contribute to the realization of a more affluent society through various foundational technologies centered on P.A.I. and its integrations.
■ What is P.A.I. (Personal Artificial Intelligence)?
P.A.I. (Personal Artificial Intelligence) is an original research and development project by alt. P.A.I. digitizes human intentions and judgments as reproducible clones and places them in the cloud, with the goal of replacing all digital tasks with those clones.
https://alt.ai/pai/

■ About alt Inc.
Founded in November 2014, alt is a venture company that "aims to free people from unproductive labor" by creating P.A.I.®️ (Personal Artificial Intelligence) and AI clones. We also develop and provide SaaS products such as AI GIJIROKU, which utilizes speech recognition technology derived from the development of AI dialogue engines. 3.5 billion yen was raised in a Series D funding round in June 2022, bringing our total amount raised to 6.2 billion yen.
https://alt.ai/en/
<For inquiries from the press>
Public Relations, Misako Nishizawa
TEL: 03-6455-4677 e-mail: press@alt.ai

<For inquiries regarding the alliance>
Sales. Katsuya Asai
TEL: 03-6455-4677 e-mail: gijiroku@alt.ai