2021/04/19
alt Inc. launches "Lawyer GIJIROKU" Voice Recognition for Lawyers
Personal Artificial Intelligence (P.A.I.) developer alt Inc. (Head office: Minato-ku, Tokyo, Japan, CEO: Kazutaka Yonekura), has started providing "AI GIJIROKU (AI Minute)" (https://gijiroku.ai/) as a speech recognition function by the industry for lawyers. "AI GIJIROKU (AI Minute Book)", a speech recognition engine for lawyers is now available. 
>>AIGIJIROKU Contact for corporate customers <<
https://gijiroku.ai/company-contact/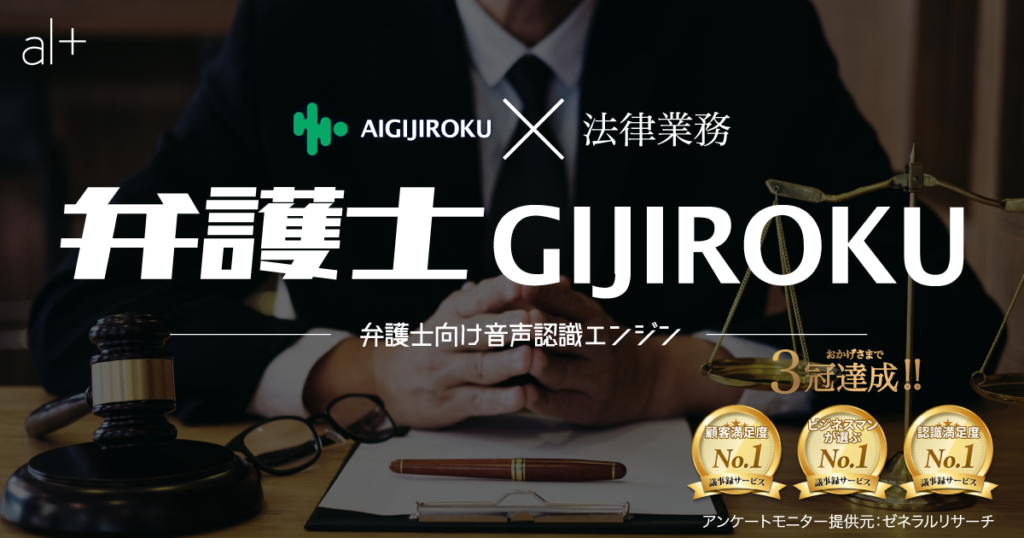 【Online legal consultation is available】
The rapid spread of online conference systems in recent years is no exception to the trend in a legal consultation. The use of online legal consultations has already surpassed that of telephone consultations, and the demand for such consultations is increasing.

Our "AI GIJIROKU" is the first system in Japan to be officially linked to Zoom, making it more convenient for users.

Thanks to our efforts, we have received various requests from legal professionals.
To respond to these requests, we have been working on generating a speech recognition model optimized for online legal consultation.

We are pleased to announce that we have added the completed "legal" speech recognition model to the "AI GIJIROKU" as one of the speech recognition engines for different business fields.
【Conventional speech recognition engines and our method】
Conventional speech recognition engines pursue versatility at the expense of accuracy.
In contrast, our "AI GIJIROKU" has achieved higher accuracy by personalizing general-purpose speech recognition to the individual user's habits and usage.
【Speech Recognition Engines by Industry and Field】
In order to further improve the accuracy of speech recognition, we have developed speech recognition engines specialized for various industries and fields.
The "legal" speech recognition engine, which is designed to learn legal terminology and communication with its advanced and complex terminology system, will meet the demands of more highly specialized fields such as the field of legal consultation by lawyers.
【What is AI GIJIROKU?】
Improving the productivity of each employee in an organization is now one of the most important issues we need to address. By utilizing AI-related technologies, the research team we have developed "AI GIJIROKU," which converts meeting minutes into text in real-time, instead of transcribing audio recordings or manually entering handwritten notes. We define efficient meetings as "smart meetings," and will not only visualize meetings, but also provide concrete solutions for optimal employee work styles, and contribute to solving social issues such as remote work, which is an important issue these days.
◆AI GIJIROKU (AI Minutes)" official website:
https://gijiroku.ai/en

◆AI GIJIROKU Concept Video
https://youtu.be/KNjdqUvKZp8

◆AI GIJIROKU sales partner details page
https://gijiroku.ai/partner-company/
--- About Us ---
Company name : alt Inc.
Website : https://alt.ai/en/
Address: 9F SENQ Roppongi,Shin-Roppongi bldg. 7-15-7 Roppongi, Minato-ku, Tokyo, Japan
Representative: Kazutaka Yonekura, CEO
Establishment : November 2014
Business description : Development and provision of P.A.I. (Personal Artificial Intelligence).
[P.A.I.]
P.A.I. (Personal Artificial Intelligence) is an AI that aims to digitize our own narrative and place it in the cloud to perform all digital tasks.

*P.A.I. 
"P.A.I." is a registered trademark of alt.
Concept movie of P.A.I. : 
https://www.youtube.com/watch?v=AqTDorosHwY


--- Our AI solutions (Partial)---
◆Inquiries for our AI solutions
https://alt.ai/aiprojects/en


◆AI GIJIROKU (AI Minutes)" official website:
https://gijiroku.ai/en


◆The world's first AI clone questionnaire "Nulltitude" official website
https://nulltitude.ai/en


◆"NeoRMR" Operator AI Support System official website
https://alt-technologies.com/rmr/en


◆"AI TSUYAKU (AI Interpreter)" official website
https://tsuyaku.ai/
<For inquiries regarding the press and media>    
Public Relations representative : Misako Nishizawa
Phone : +81-3-6380-7076
E-mail: press@alt.ai
<For inquiries regarding the event>    
Public Relations representative : Yusuke Kato
Phone : +81-3-6380-7076
E-mail:  event@alt.ai