2022/03/28
alt Inc. exhibits "AI GIJIROKU" at Japan IT Week Spring
Personal Artificial Intelligence (P.A.I.) developer alt Inc.(https://alt.ai/en/) (Head office: Minato-ku, Tokyo, Japan, CEO: Kazutaka Yonekura) , will exhibit at Japan's largest IT exhibition, "Japan IT Week AI & Business Automation Exhibition [Spring]," which will be held for three days from April 6 (Wed) to 8 (Fri), 2022, at Tokyo Big Sight.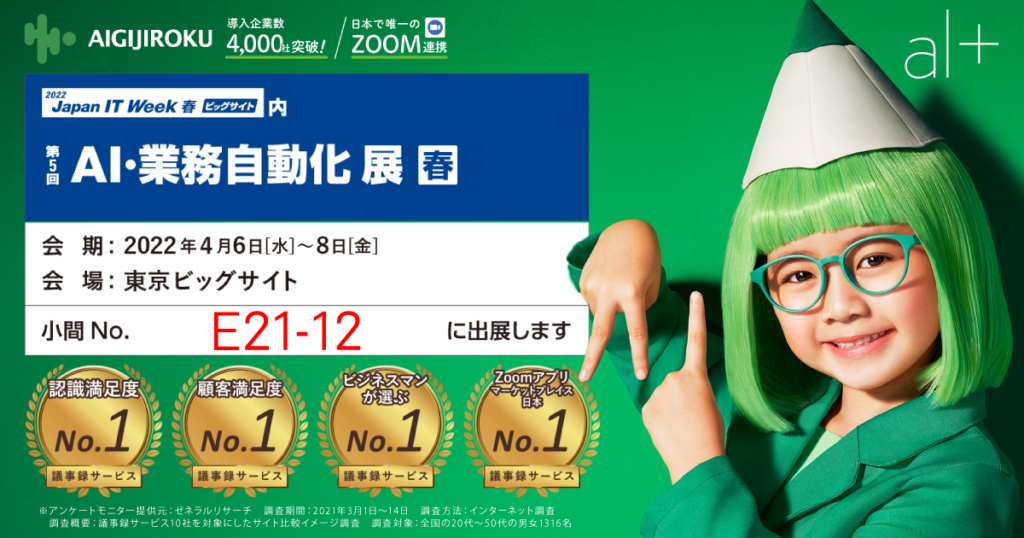 ■ Event Summary
Event title: 31st Japan IT Week Spring, AI & Business Automation Exhibition [Spring
Date: Wednesday, April 6 - Friday, April 8, 2022
Time: 10:00 - 18:00 (closing at 17:00 on the last day)
Venue: Tokyo Big Sight
Booth: East Hall 3, Booth No.: E21-12
Official website of the exhibition: https://www.japan-it-spring.jp/ja-jp/about/ai.html
■ AI GIJIROKU" will be exhibited at the alt's booth.
We will introduce "AI GIJIROKU (AI GIJIROKU)" (https://gijiroku.ai/), which has been used by more than 4,000 companies, at the alt booth.
AI GIJIROKU automatically distinguishes between voices and creates minutes for each speaker in various situations, such as meeting minutes and sales meeting memos. AI GIJIROKU is the only AI minute in Japan that is also linked to Zoom, and is equipped with functions such as subtitle display and simultaneous translation, which are ideal for remote work by covid disaster.
■ Let's get an "AI GIJIROKU" trial account!
At our booth, we will introduce actual examples of "AI GIJIROKU" applications and propose possible scenarios to improve your company's business productivity based on them.
■ You can also try out the "AI GIJIROKU" demo.
In addition, we will also provide you with a one-week trial account if you wish to try it out.
Please take this opportunity to visit our booth.
What is AI GIJIROKU?
Improving the productivity of each employee in an organization is now one of the most important issues to address. By utilizing AI-related technologies, the research team at alt has developed AI GIJIROKU, which converts meeting minutes into text in real time, as opposed to transcribing audio recordings or manually entering handwritten notes. alt defines efficient meetings as "smart meetings," and will not only visualize meetings but also provide concrete solutions for optimal employee work styles, while contributing to solving social issues such as remote work, an important issue these days.
◆"AI GIJIROKU" official website
https://gijiroku.ai/

◆"AI GIJIROKU" concept video
https://youtu.be/KNjdqUvKZp8

◆"AI GIJIROKU" commercial video
https://youtu.be/xMY0ESCBJr4

◆"AI GIJIROKU" sales partner details page
https://gijiroku.ai/partner-company/
[AI GIJIROKU Webinar!]
Date: Tuesday, March 15, 15:00~16:00
Overview: Webinar on how to use AI GIJIROKU!
We will answer your frequently asked questions! (Webinar for beginners)
Method: Free online seminar *Zoom will be used.
Click here to sign up!
>>https://event.alt.ai/aigijiroku_apr15<<
■ alt Inc.
Through the research and development of "alt", a P.A.I. (Personal Artificial Intelligence) based on digital cloning technology, we aim to create the first autonomous society in the history of mankind, in which our daily lives themselves become assets that continue to create lasting value, and in which we can govern ourselves based on our own assessment.
Company name : alt Inc.
Website : https://alt.ai/en/
Address: 809 SENQ Roppongi,Shin-Roppongi bldg. 7-15-7 Roppongi, Minato-ku, Tokyo, Japan
Representative: Kazutaka Yonekura, CEO
Establishment : November 2014
Business description : Development and provision of P.A.I. (Personal Artificial Intelligence).
[P.A.I.]
P.A.I. (Personal Artificial Intelligence) is an AI that aims to digitize our own narrative and place it in the cloud to perform all digital tasks.

*P.A.I. 
"P.A.I." is a registered trademark of alt.
Concept movie of P.A.I. : 
https://www.youtube.com/watch?v=AqTDorosHwY
--- Our AI solutions (Partial) ---
◆Inquiries for our AI solutions
https://alt.ai/aiprojects/en


◆AI GIJIROKU (AI Minutes)" official website
https://gijiroku.ai/en


◆"AI GIJIROKU (AI Minutes)" Business Plan official Website
https://gijiroku.ai/premium


◆The world's first AI clone questionnaire "Nulltitude" official website
https://nulltitude.ai/en


◆"NeoRMR" Operator AI Support System official website
https://alt-technologies.com/rmr/en


◆"AI TSUYAKU (AI Interpreter)" official website
https://tsuyaku.ai/


◆"AI Call Center" official Website
https://aicallcenter.ai/


◆"AI Moderator" official website
https://aimoderator.ai/


◆"AI Translation" official website
https://honyaku.ai/


◆"Linguacode.AI" (International version of "AI Translation") official website
https://linguacode.ai
<For inquiries regarding the press and media>
Public Relations representative : Misako Nishizawa
Phone : +81-3-6380-7076
E-mail: press@alt.ai