2021/11/02
alt Inc. Exhibits "AI Call Center" at Call Center/CRM Demo & Conference
Personal Artificial Intelligence (P.A.I.) developer alt Inc.(https://alt.ai/en/) (Head office: Minato-ku, Tokyo, Japan, CEO: Kazutaka Yonekura), will participate in Japan's largest IT exhibition "alt", which will be held on November 11 (Thursday) and 12 (Friday), 2021, at Sunshine City Cultural Hall.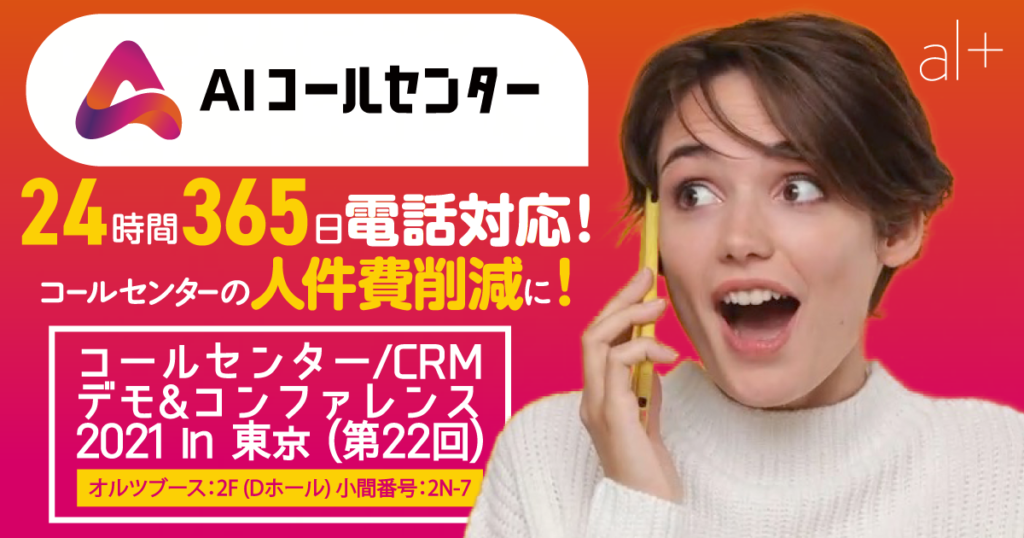 ■Event Outline
Name: Call Center/CRM Demo & Conference 2021 in Tokyo (22nd)
Date: Thursday, November 11th, 2021 and Friday, November 12th, 2021
Time: 10:00 am - 5:00 pm
Venue: Sunshine City Cultural Hall 3-1 Higashi-Ikebukuro, Toshima-ku, Tokyo 170-8630, Japan
alt booth: 2F (Hall D), Booth number: 2N-7
Official website of the exhibition: https://www.callcenter-japan.com/tokyo/
You can experience "AI Call Center" at the alt booth!
AI Call Center (https://aicallcenter.ai/) is a natural dialogue telephone system realized by applying the elements of dialogue engine, speech recognition, and speech synthesis from the digital clone technology that alt has been researching and developing for many years. It supports both incoming calls and outgoing calls, reduces operating costs for in-house call centers and telephone operations, automates responses, and analyzes call logs. 
At the alt booth, we will have a demo call experience, introduce examples of how companies are using the system, and make proposals on how to use it. For companies that are specifically considering the introduction of this service, we will also be able to consult and create scenarios at a later date.
Outline of AI Call Center
■Free dialogue AI will revolutionize corporate support operations from the ground up.
AI Call Center (https://aicallcenter.ai/) is a spoken dialogue AI solution that enables "free dialogue with AI" using natural language processing technology that alt has cultivated through years of research and development to meet the needs of call centers in the new era. It is an interactive AI solution.
Video introduction of AI Call Center: https://youtu.be/oktj89pSn4M 
■ 3 Advantages of Introducing AI Call Center (Business)
24 hours a day, 365 days a year, unmanned response by AI is possible, and there is no need to increase the number of operators because the booth space required for human operators is no longer necessary. This will revolutionize the conventional call center business model. 
The biggest bottleneck in call centers—labor costs can be overwhelmingly reduced. You will realize a cost reduction of more than 50% compared to conventional labor costs.
By replacing the know-how of experienced operators with AI, the quality of work of the entire operator staff can be improved in a short period of time. Of course, the aggregated knowledge can be retained as an asset, contributing to the promotion of DX.
■ 3 Advantages of Introducing an AI Call Center (Technology)
This service can be linked to other advanced AI technologies for data analysis and functional expansion.
Emotion Analysis
Real-time visualization of conversations in terms of joy, anger, sorrow, and pleasure.
Preventing problems before they occur.
Improvement of conversation quality.
Vulgar Words Detection
Check whether operators are using prohibited words in conversations.
Time-series changes in the number of times NG words are uttered and the number of utterances.
Personalization Analysis
Analyze the conversations of excellent operators.
Improve business processes and services by reflecting the know-how and knowledge of excellent operators in daily operations.
■ 3 Advantages of Introducing AI Call Center (Data Analysis)
Analysis of the vast amount of call data exchanged between customers and operators on a daily basis can be of great value in the future call center business. AI Call Center not only transcribes call data, but also provides added value through analysis.
Want to know what kind of conversation an excellent operator is having?
All the operator's talk will be visualized and analyzed by AI.
This will create an environment where new operators can immediately learn from the conversations of excellent operators.
To improve service value by collecting VOC
By analyzing and aggregating the inquiries received from customers and automatically summarizing customer concerns and dissatisfaction, the system collects data for different purposes.
I want to analyze the content of conversation logs when problems occur with customers.
The system refers to the text data of each conversation and extracts the keywords that caused the trouble from the conversation.
This makes it possible to detect keywords that cause problems in advance.
Examples of usage scenarios by industry (partial)
------------------------------------------------------
Banks
Store information ・ATM maintenance information ・Information on financial services
Securities
Information on opening an online account ・Introduction of savings investment product lineup ・Information on asset management services
Real estate
Real estate viewing reservations ・Rental information ・Property sale appraisal support
Insurance
Information on various insurance services ・ Insurance cancellation procedures ・Insurance claim procedures
Manufacturing
Confirmation of orders received ・Checking inventory status ・Receiving orders in the first instance
IT
System support desk ・Service information request handling ・FAQ handling
EC
Order automation ・Return receipt ・Customer support
Food & Beverage
Automated reservation ・Guide to store access ・Delivery order acceptance
Transportation
Confirmation of shipping status and re-delivery ・Moving estimate ・Delivery time change
【AI GIJIROKU Co-sponsored Webinar!】
Date: Friday, November 5, 13:00~15:00
Overview: [Co-hosted by Nissho Electronics and alt] 2nd AI call center business applications webinar!
Method: Free online seminar *Zoom will be used.

Please register for the November 5th event here!
>>https://event.alt.ai/aicallcenter_nov5<<

Date & Time: Thursday, December 16, 13:00~14:00
Overview: [Hosted by alt] 3rd AI call center business applications webinar!
Method: Free online seminar *Zoom will be used.

Please register for the December 16th event here!
>>https://event.alt.ai/aicallcenter_dec16<<
■ alt Inc.
Through the research and development of "alt", a P.A.I. (Personal Artificial Intelligence) based on digital cloning technology, we aim to create the first autonomous society in the history of mankind, in which our daily lives themselves become assets that continue to create lasting value, and in which we can govern ourselves based on our own assessment.
Company name : alt Inc.
Website : https://alt.ai/en/
Address: 809 SENQ Roppongi,Shin-Roppongi bldg. 7-15-7 Roppongi, Minato-ku, Tokyo, Japan
Representative: Kazutaka Yonekura, CEO
Establishment : November 2014
Business description : Development and provision of P.A.I. (Personal Artificial Intelligence).
[P.A.I.]
P.A.I. (Personal Artificial Intelligence) is an AI that aims to digitize our own narrative and place it in the cloud to perform all digital tasks.

*P.A.I. 
"P.A.I." is a registered trademark of alt.
Concept movie of P.A.I. : 
https://www.youtube.com/watch?v=AqTDorosHwY


--- Our AI solutions (Partial)---
◆Inquiries for our AI solutions
https://alt.ai/aiprojects/en


◆AI GIJIROKU (AI Minutes)" official website
https://gijiroku.ai/en


◆"AI GIJIROKU (AI Minutes)" Business Plan official Website
https://gijiroku.ai/premium


◆The world's first AI clone questionnaire "Nulltitude" official website
https://nulltitude.ai/en


◆"NeoRMR" Operator AI Support System official website
https://alt-technologies.com/rmr/en


◆"AI TSUYAKU (AI Interpreter)" official website
https://tsuyaku.ai/


◆"AI Call Center" official Website
https://aicallcenter.ai/


◆"AI Moderator" official website
https://aimoderator.ai/


◆"AI Translation" official website
https://honyaku.ai/


◆"Linguacode.AI" (International version of "AI Translation") official website
https://linguacode.ai
<For inquiries regarding the press and media>    
Public Relations representative : Misako Nishizawa
Phone : +81-3-6380-7076
E-mail: press@alt.ai
<For inquiries regarding the event>    
Public Relations representative : Katsuya Asai
Phone : +81-3-6380-7076
E-mail: aicallcenter@alt.ai