2021/11/18
alt Inc. and Video Research Successfully Demonstrate "Digital Clone Survey"
Personal Artificial Intelligence (P.A.I.) developer alt Inc.(https://alt.ai/en/) (Head office: Minato-ku, Tokyo, Japan, CEO: Kazutaka Yonekura), in collaboration with Video Research Ltd. (headquartered in Chiyoda-ku, Tokyo; Wataru Mochizuki, Representative Executive Officer; hereinafter "Video Research"), conducted a demonstration experiment of the "Nulltitude "*2 questionnaire system using alt's digital clones, and as the first result succeeded in generating digital clones (virtual survey respondents) that reproduce the survey monitors (actual survey respondents).
By combining Video Research's vast survey data with alt's digital clones, it is possible to predict the evaluation of program viewers at the planning stage and detailed targets, which has been difficult to do in the past.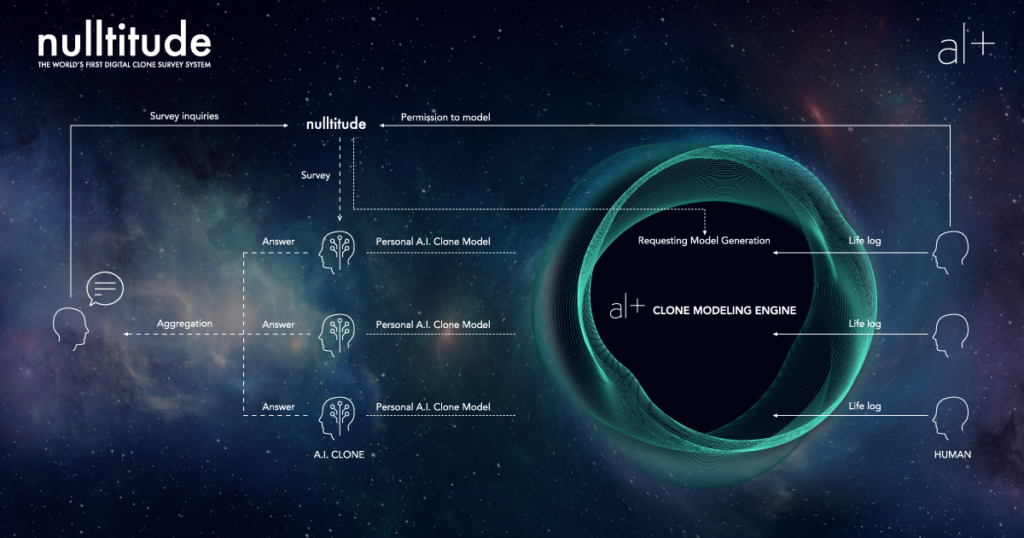 Successful Generation of Digital Clones of Real Survey Monitors
By using alt's "Clone Modeling Engine," we have succeeded in generating digital clones based on the data obtained from survey monitors (actual survey respondents) owned by Video Research.
The digital clones generated here were installed in alt's "Nulltitude," and questionnaires were conducted, and it was confirmed that responses could be obtained stably.
Using the distributed computing platform "Emeth"
The generation of digital clones and their responses usually requires a very long computation time. In order to run Nulltitude with a large number of digital clones at a practical speed, we used the distributed computing platform "Emeth" that alt has built.
This enabled Nulltitude to process a huge number of operations at high speed.
The data obtained here will be used to ensure stable operation when more digital clones are used and will also be used to make adjustments for the opening of Emeth to the public.
Video Research's "Research 4.0" Enables Prediction of Program Evaluation at the Planning Stage.
Since February 2021, alt has been conducting joint research with Video Research to realize a next-generation marketing research method that utilizes AI technology, which Video Research has named as "Research 4.0"*3.
By realizing Research 4.0, we believe that it will be possible to create programs that are highly evaluated by viewers by reflecting simulations of viewer evaluations at the program planning stage.
In addition, by generating a large number of digital clones with various characteristics (values) that can be freely answered, it will be possible to confirm detailed target responses that have been difficult to survey in the past, and also to delve deeper into impressions of the evaluations.
Future Development
Based on the success of this experiment, alt will conduct in-depth analysis and research with Video Research on the results and will build a highly accurate and convenient digital clone questionnaire system by implementing a variety of question formats and responses.
■ alt Inc.
Through the research and development of "alt", a P.A.I. (Personal Artificial Intelligence) based on digital cloning technology, we aim to create the first autonomous society in the history of mankind, in which our daily lives themselves become assets that continue to create lasting value, and in which we can govern ourselves based on our own assessment.
Company name : alt Inc.
Website : https://alt.ai/en/
Address: 809 SENQ Roppongi,Shin-Roppongi bldg. 7-15-7 Roppongi, Minato-ku, Tokyo, Japan
Representative: Kazutaka Yonekura, CEO
Establishment : November 2014
Business description : Development and provision of P.A.I. (Personal Artificial Intelligence).
■ Video Research Ltd.
Video Research Ltd. was established in 1962 as the only research organization in Japan to provide TV ratings data. Since then, the company has been providing cutting-edge data on various media and marketing data, including television viewership and radio listening rate surveys in Japan, to offer total support for corporate marketing issues.
URL: https://www.videor.co.jp/
*1P.A.I.
P.A.I. (Personal Artificial Intelligence) is an AI that aims to digitize our own narrative and place it in the cloud to perform all digital tasks.

*P.A.I. 
"P.A.I." is a registered trademark of alt.
Concept movie of P.A.I. : 
https://www.youtube.com/watch?v=AqTDorosHwY
*2 "Nulltitude", the world's first digital clone survey
Nulltitude is an AI clone survey system in which a swarm of digital clones of individual humans answer surveys.
The alt Clone Modeling Engine developed by alt, which extracts the characteristics of human thought and personality, clones the thoughts of the clones using actual human lifelogs as training material. When the digital clones generated by the engine are asked to respond to a questionnaire, the responses reflect the thoughts of the original human being. The system then performs this on multiple digital clones and returns the total to the person who administered the survey.
URL: https://nulltitude.ai
Press release: https://kyodonewsprwire.jp/release/202006231170
*3 Research 4.0 
Research 4.0 is a next-generation marketing and research technology based on new technologies, as typified by AI-based digital clones. Video Research positions "Research 1.0" as "human face-to-face surveys," "Research 2.0" as "PC Internet surveys," and "Research 3.0" as "logs and sensing data.
--- Our AI solutions (Partial)---
◆Inquiries for our AI solutions
https://alt.ai/aiprojects/en


◆AI GIJIROKU (AI Minutes)" official website
https://gijiroku.ai/en


◆"AI GIJIROKU (AI Minutes)" Business Plan official Website
https://gijiroku.ai/premium


◆The world's first AI clone questionnaire "Nulltitude" official website
https://nulltitude.ai/en


◆"NeoRMR" Operator AI Support System official website
https://alt-technologies.com/rmr/en


◆"AI TSUYAKU (AI Interpreter)" official website
https://tsuyaku.ai/


◆"AI Call Center" official Website
https://aicallcenter.ai/


◆"AI Moderator" official website
https://aimoderator.ai/


◆"AI Translation" official website
https://honyaku.ai/


◆"Linguacode.AI" (International version of "AI Translation") official website
https://linguacode.ai
<For inquiries regarding the press and media>    
Public Relations representative : Misako Nishizawa
Phone : +81-3-6380-7076
E-mail: press@alt.ai
<For inquiries regarding the event>    
Public Relations representative : Katsuya Asai
Phone : +81-3-6380-7076
E-mail: poc@alt.ai