2023/05/11
alt Inc. and Honyaku Center Launch Demonstration Experiment for Joint Product Development Using Generated AI
The collaboration aims to develop a service that automates and streamlines the production, translation, and management of foreign-language documents through AI.
alt Inc.(https://alt.ai/en/), a Japan based developer of AI Clone and Personal Artificial Intelligence (P.A.I.®️) (Head Office: Minato-ku, Tokyo, Japan; CEO: Kazutaka Yonekura), is pleased to announce that it has agreed to a business collaboration with Japan's largest language service provider, HONYAKU CENTER INC. (Head office: Chuo-ku, Osaka; President: Shunichiro Ninomiya; hereinafter "Honyaku Center"). Going forward, the two companies will proceed with demonstration tests for the servicing of foreign-language document solutions utilizing alt's LHTM-2*1 and large-scale language model dialogue AI as typified by ChatGPT.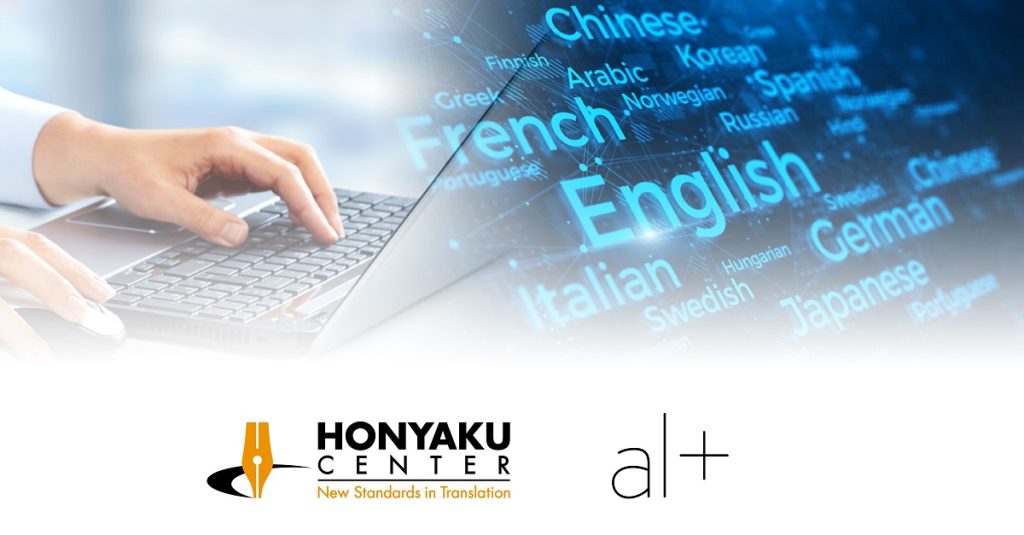 In September 2021, alt announced the initial version of its Large-scale Heuristic Thinking Model (LHTM)*2. Continuing its research and development, alt unveiled LHTM-2 in February 2023. LHTM-2 matches the parameter count of OpenAI's large-scale language model GPT-3, among other models. The model not only supports natural text generation and creative assistance but, due to its customizable design, it can internally generate fact-based output.
In the same month, we pledged to begin backing AI demonstration experiments in a variety of industries. This support leverages the language processing technology and large-scale language model building expertise that alt has amassed.
Through the partnership with Honyaku Center (Honyaku Center), we will conduct demonstration experiments to develop products that automate and streamline the production, translation, and management of foreign-language documents. This endeavor will combine the customer base and linguistic assets owned by the Honyaku Center with cutting-edge generative AI technology derived from large-scale language modeling technology.
We look forward to continuing to pursue research and development towards a society where all people can make the most of their lives without being bound by the constraints of time and space, and to realize our mission of "freedom from unproductive labor."
※1:https://alt.ai/news_en/japanmade-gpt3-first-ever-successfully-personalized-large-scale-heuristic-thinking-model-lhtm-2-developed-by-alt-inc/
※2:https://alt.ai/news_en/digital-clone-alt-large-scale-empirical-thinking-model-lhtm-is-now-available/
▶ For inquiries about LHTM-2/GPT and other large-scale language processing solutions, please contact
 https://alt.ai/aiprojects/gpt/
■ About HONYAKU CENTER INC.
Address: Osaka Midosuji Building 13F, 4-1-3 Kyutaromachi, Chuo-ku, Osaka-shi, Osaka
Established: April 1986
Representative: Shunichiro Ninomiya, President and Representative Director
Capital: 588 million yen
Business: Translation services
URL: https://www.honyakuctr.com/
■ About alt Inc.
Address: Shin Roppongi Building, 7-15-7 Roppongi, Minato-ku, Tokyo
Established: November 2014
Representative: Kazutaka Yonekura, Representative Director
Capital: 3,218 million yen (as of December 31, 2022), *Including capital reserve

Business: alt is committed to researching and developing personal artificial intelligence (P.A.I.), as well as creating and providing products such as AI GIJIROKU, an automatic meeting minutes tool that leverages elemental technologies, and AI Call Center, a voice dialogue solution that enables free conversation with AI. Additionally, the company engages in general AI contract development.
URL : https://alt.ai/en/
<For inquiries regarding this matter>
alt Inc., Public Relations, Misako Nishizawa
TEL: 03-6455-4677 e-mail: press@alt.ai
Honyaku Center, Corporate Planning Office
e-mail: ir@honyauctr.co.jp
<For inquiries regarding the alliance>
alt Inc., New Business Development Department, Yu Kuniyasu
TEL: 03-6455-4677 e-mail: new_bussines_dev@alt.ai