2022/04/14
alt Inc. and MetaReal Jointly Develop "Metalliunia," a Metaverse Digital Clone. From Celebrities to the Deceased, We Pursue the Reality Felt in Front of Our Eyes
Personal Artificial Intelligence (P.A.I.) developer alt Inc.(https://alt.ai/en/) (Head office: Minato-ku, Tokyo, Japan, CEO: Kazutaka Yonekura) , and MetaReal Co. (TSE listed, Stock code: 6182, Head office: Chiyoda-ku, Tokyo, President: Junichi Goseki, hereinafter "Metalreal") have started joint development of a service to reproduce and interact with real and deceased people by digital cloning in the metaverse space.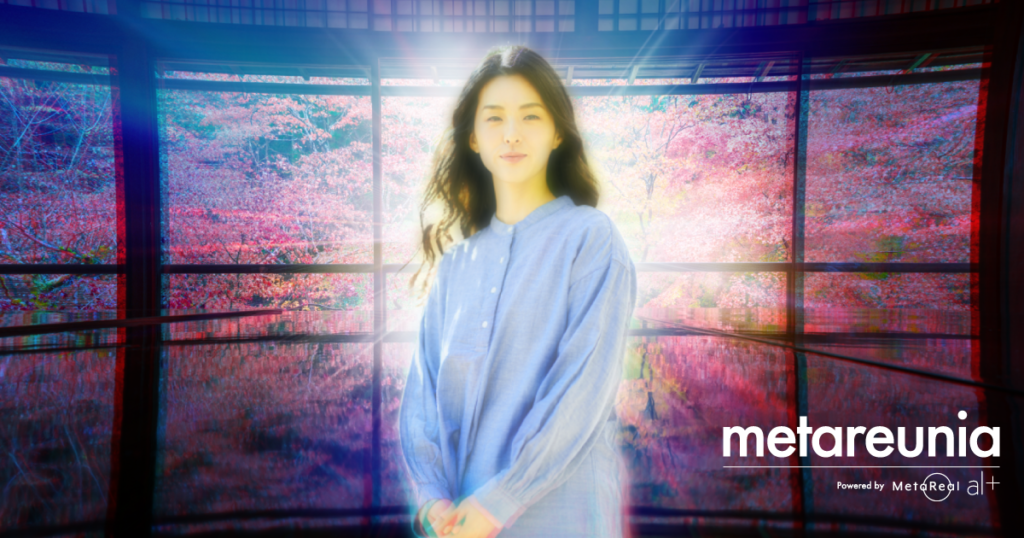 About MetaReunia
alt and MetaReunia are pleased to announce the joint development of MetaReunia, a service that allows users to meet human digital clones within the metaverse space, together with MetaReal.
With this, alt will expand into the metaverse.
By combining alt's digital cloning technology of real people and MetaReal's real metaverse space technology, the "warmth" of human beings, which has been difficult to reproduce with CG avatars, will be brought into the metaverse.
About the Technology
Metalirunia uses a VR browser system that has been developed and refined through the MetaReal Group's Travel DX and VR Music projects. The VR browser comes standard with advanced functions such as voice calls and AI translation.
A VR version of our alt digital clone will be reproduced on this VR browser. The digital clone operates at a high speed using the distributed computing platform Emes developed by alt, creating a situation in which it seems as if a real individual exists in front of you.
What We Aim for with Digital Clones in the Metaverse
Real encounters with not only existing individuals and celebrities, but also with great figures, thinkers, and executives of the past will have an impact on us as an experience that goes beyond knowledge obtained from books and other sources.
We also aim to provide a service that gently touches the deepest layers of people's hearts, such as loss and longing, by realizing "reunions" with important people who were only in our memories and whom we wish to see again.
Significance
For alt, this project is paradoxically about turning a digital clone, which until now has been a fictional existence beyond the screen, into something real by making the space itself fictitious. It is also nothing less than the realization of a more sophisticated reproduction of the digital clone, including the body.
Together with MetaReal, a "global ubiquitous" company that aims to create a world without time, place, language, or physical constraints, we will realize "reunion" in the "meta (higher)" space.
■ alt Inc.
Through the research and development of "alt", a P.A.I. (Personal Artificial Intelligence) based on digital cloning technology, we aim to create the first autonomous society in the history of mankind, in which our daily lives themselves become assets that continue to create lasting value, and in which we can govern ourselves based on our own assessment.
Company name : alt Inc.
Website : https://alt.ai/en/
Address: 809 SENQ Roppongi,Shin-Roppongi bldg. 7-15-7 Roppongi, Minato-ku, Tokyo, Japan
Representative: Kazutaka Yonekura, CEO
Establishment : November 2014
Business description : Development and provision of P.A.I. (Personal Artificial Intelligence).
[P.A.I.]
P.A.I. (Personal Artificial Intelligence) is an AI that aims to digitize our own narrative and place it in the cloud to perform all digital tasks.

*P.A.I. 
"P.A.I." is a registered trademark of alt.
Concept movie of P.A.I. : 
https://www.youtube.com/watch?v=AqTDorosHwY
■ MetaReal Co.
Corporate mission "to free humanity from the constraints of place, time, language, and physicality
We will integrate the latest technologies such as AI, Augmented Reality (AR), Virtual Reality (VR), 5G/6G/7G (high-speed, high-capacity, multi-connected communications), 4K/8K/12K (super resolution video), video distribution solutions, wearable devices, robots, Human Augmentation (HA), etc., to enable people around the world to "interact freely anywhere, anytime". By integrating the latest technologies such as 4K/8K/12K (super high resolution video), video distribution solutions, wearable devices, robots, and HA (Human Augmentation), we will realize "global ubiquitous computing" where people around the world can interact, live, work, and enjoy life "language-free" with anyone, anywhere, anytime.
Since two years ago, we have been focusing on "Metaverse Business" as a growth area, and our group companies, MATRIX Corporation ("Dokodemo Door") and Travel DX Corporation ("Dokodemo Door Trip") are in charge of this business.

Company Name :MetaReal Co.
URL :https://www.metareal.jp/
Location: New Kudan Building, 3-7-1 Kanda Jimbocho, Chiyoda-ku, Tokyo
Representative: Junichi Goseki, Representative Director
Establishment : February 2004
Business description: Planning, development, and operation of language-free services using automatic translation, and VR services for daily life
--- Our AI solutions (Partial) ---
◆Inquiries for our AI solutions
https://alt.ai/aiprojects/en


◆AI GIJIROKU (AI Minutes)" official website
https://gijiroku.ai/en


◆"AI GIJIROKU (AI Minutes)" Business Plan official Website
https://gijiroku.ai/premium


◆The world's first AI clone questionnaire "Nulltitude" official website
https://nulltitude.ai/en


◆"NeoRMR" Operator AI Support System official website
https://alt-technologies.com/rmr/en


◆"AI TSUYAKU (AI Interpreter)" official website
https://tsuyaku.ai/


◆"AI Call Center" official Website
https://aicallcenter.ai/


◆"AI Moderator" official website
https://aimoderator.ai/


◆"AI Translation" official website
https://honyaku.ai/


◆"Linguacode.AI" (International version of "AI Translation") official website
https://linguacode.ai
<For inquiries regarding the press and media>
Public Relations representative : Misako Nishizawa
TEL: +81-3-6380-7076
E-mail: press@alt.ai

<For inquiries regarding the Alliance, please contact    
Sales Representative : Yamamoto
TEL: 03-6380-7076
E-mail: gijiroku@alt.ai