2022/07/01
alt Inc.'s "AI GIJIROKU (AI GIJIROKU)" TV Commercial Will Start Airing Nationwide on July 1st!
A leading Voice to Text company, alt Inc.(https://alt.ai/en/) (Head office: Minato-ku, Tokyo, Japan, CEO: Kazutaka Yonekura) , will start airing a TV commercial for "AI GIJIROKU (AI Minutes)" https://gijiroku.ai/en nationwide today, July 1.
>>Inquiries about the introduction of AI GIJIROKU<<
https://gijiroku.ai/company-contact/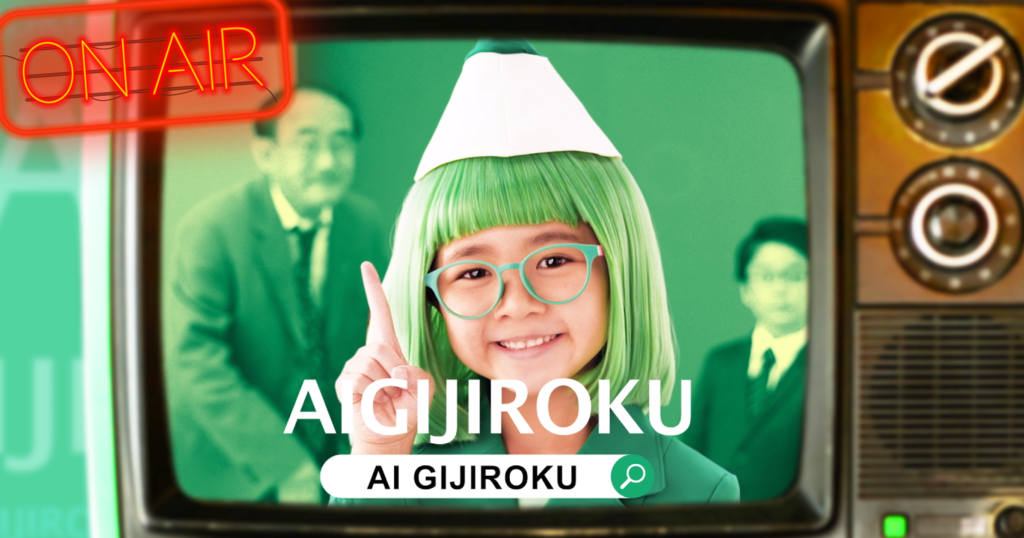 "AI GIJIROKU" is Leading the Voice-to-Text Market in Japan
With approximately 5,000 companies having installed AI GIJIROKU, the growth of alt's AI GIJIROKU is accelerating, and the company will begin airing a nationwide TV commercial to establish its position as the de facto service in the domestic voice-to-text market.
About the "AI GIJIROKU" TV Commercial
The TV commercial, "AI GIJIROKU Arc," will be aired to introduce, with a comedic touch, how "AI GIJIROKU" solves various problems that arise in corporate meetings.
The commercial will be aired on TBS TV's "news23," which is popular not only with highly sensitive business people, but also with a large number of viewers, to deliver information directly to corporate staff who are dealing with similar issues.
Outline of the Commercial
■ Commercial Title: AI GIJIROKU, 30 seconds
■ Broadcast Start Date: July 1, 2022 (Fri.) and onward until the end of September.
■ On-Air Station: TBS Television
■ Broadcast Program: news23
■ Video URL: https://youtu.be/CKv0ddRDd90
AI GIJIROKU" Application Version: Now Accepting Reservations! 
At the same time, in response to many requests for smartphone support, we have started accepting reservations for the application version of "AI GIJIROKU," which will be available on the App Store (iPhone) and Google Play (Android).
With this, AI GIJIROKU will be compatible with all major devices demanded by business people.
By creating an environment in which "AI GIJIROKU" can be quickly launched at a sudden meeting or when out of the office, we will support further acceleration of corporate DX.
Click here to make a reservation for the app version
>>https://gijiroku.ai/app<<
[AI GIJIROKU Webinar!]
Date: Wednesday, July 20, 15:00~16:00
Overview: Webinar on how to use AI GIJIROKU!
We will answer your frequently asked questions! (Webinar for beginners)
Method: Free online seminar *Zoom will be used.
Click here to sign up!
>>https://event.alt.ai/aigijiroku_jul20<<
■ alt Inc.
Through the research and development of "alt", a P.A.I. (Personal Artificial Intelligence) based on digital cloning technology, we aim to create the first autonomous society in the history of mankind, in which our daily lives themselves become assets that continue to create lasting value, and in which we can govern ourselves based on our own assessment.
Company name : alt Inc.
Website : https://alt.ai/en/
Address: 809 SENQ Roppongi,Shin-Roppongi bldg. 7-15-7 Roppongi, Minato-ku, Tokyo, Japan
Representative: Kazutaka Yonekura, CEO
Establishment : November 2014
Business description : Development and provision of P.A.I. (Personal Artificial Intelligence).
[P.A.I.]
P.A.I. (Personal Artificial Intelligence) is an AI that aims to digitize our own narrative and place it in the cloud to perform all digital tasks.

*P.A.I. 
"P.A.I." is a registered trademark of alt.
Concept movie of P.A.I. : 
https://www.youtube.com/watch?v=AqTDorosHwY
--- Our AI solutions (Partial) ---
◆Inquiries for our AI solutions
https://alt.ai/aiprojects/en


◆AI GIJIROKU (AI Minutes)" official website
https://gijiroku.ai/en


◆"AI GIJIROKU (AI Minutes)" Business Plan official Website
https://gijiroku.ai/premium


◆The world's first AI clone questionnaire "Nulltitude" official website
https://nulltitude.ai/en


◆"NeoRMR" Operator AI Support System official website
https://alt-technologies.com/rmr/en


◆"AI TSUYAKU (AI Interpreter)" official website
https://tsuyaku.ai/


◆"AI Call Center" official Website
https://aicallcenter.ai/


◆"AI Moderator" official website
https://aimoderator.ai/


◆"AI Translation" official website
https://honyaku.ai/


◆"Linguacode.AI" (International version of "AI Translation") official website
https://linguacode.ai
<For inquiries regarding the press and media>
Public Relations representative : Misako Nishizawa
TEL: +81-3-6380-7076
E-mail: press@alt.ai

<For inquiries regarding the Alliance, please contact >   
Sales Representative : Yamamoto
TEL: +81-3-6380-7076
E-mail: gijiroku@alt.ai