2020/11/04
alt Inc., Chatplus, and NSW Launch AI-Based Chatbot Service
Personal Artificial Intelligence (P.A.I.) developer alt Inc. (Head office: Minato-ku, Tokyo, Japan, CEO: Kazutaka Yonekura), Chatplus K.K. (headquartered in NSE Building, 8th Floor, 1-7-1 Kanda Jimbocho, Chiyoda-ku, Tokyo; Masato Nishida, President; hereinafter "Chatplus") and Nihon Systemware Co. (headquartered in Shibuya-ku, Tokyo; Shoji Tada, President and Representative Director; hereinafter "NSW") today announced the launch of a help desk service that incorporates AI chatbot services.


1. Background and Objectives
In the wake of the new coronavirus infection, companies are required not only to respond to rapid changes in the social environment, but also to digitize their operations for the with-corona era. Since help desk operations are prone to the "three densities' ' (hermetic, dense, and close), it is important to save manpower through operational automation and the addition of inquiry channels other than telephone and e-mail. Therefore, alt, Chatplus and NSW will provide a service that combines alt's language analysis AI algorithm with Chatplus's chatbot interface, AI chatbot service that incorporates AI to support chatbot service, and NSW's help desk service. service.


2. Details of the collaboration
The roles of each company are as follows



<alt Inc.>
In general, the introduction of a chatbot service requires the creation and introduction of a large number of QA data sets, but alt's AI algorithm (NeoRMR) can start with zero QA data sets. In addition, since the AI can be trained in real time during operation, the periodic man-hours required for AI training can be greatly reduced.
<Chat Plus>
Chat Plus chatbots are the most sophisticated chat systems in the world, and can be configured in a variety of ways depending on the customer's application, including attended chat, choice type chatbots, automatic response to natural language using AI, and RPA integration.
<NSW>
This AI chatbot service will be used in the company's own data center operations and will be provided to customers as an AI help desk solution. This will enable IVR using cloud PBX and labor-saving response work using AI chatbots to automate and improve the efficiency of help desk operations.
■AI chatbot operation image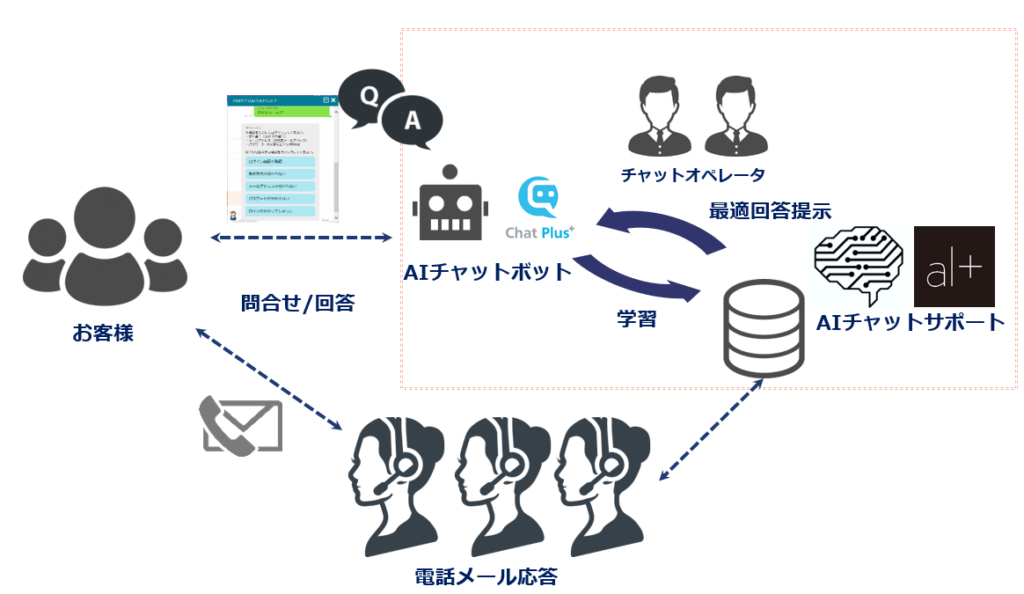 When a new "question" comes in, the Chat Plus interface displays a "candidate answer" that NeoRMR has learned and considers to be the best.

When a new "question" comes in, the Chat Plus interface displays the best "answer candidates" from the ones NeoRMR has learned.

QA knowledge is accumulated and AI learns to respond automatically without the need for an operator.



By introducing this service to NSW's help desk operations, we expect to improve customer satisfaction, equalize response quality, shorten chat operator response time, reduce training costs, and increase the telework rate.
In the future, alt, Chatplus, and NSW will propose and sell helpdesk solutions using this AI chatbot service to a wide range of industries, aiming to create high value-added solutions that contribute to social life as "New Normal Chatbot Design.
[Related Links]
NSW Helpdesk Services
https://www.nsw.co.jp/solution/detail.html/?ssid=helpdesk


NSW Operation Automation Service "Managent-Automation"
https://nsw-dc.jp/aiops/
--- About Us ---
Company name : alt Inc.
Website : https://alt.ai/en/
Address: 809 SENQ Roppongi,Shin-Roppongi bldg. 7-15-7 Roppongi, Minato-ku, Tokyo, Japan
Representative: Kazutaka Yonekura, CEO
Establishment : November 2014
Business description : Development and provision of P.A.I. (Personal Artificial Intelligence).



--- Chat Plus Co. ---
Company name : Chat Plus Co.
URL : https://chatplus.jp
Location : NSE Building 8F, 1-7-1 Kanda Jimbocho, Chiyoda-ku, Tokyo
Representative :Shohito Nishida, President and Representative Director
Establishment : August, 2016
Business description : Providing chat support tool "ChatPlus


--- NSW (Japan Systemware Corporation) ---
Established in 1966. The company provides one-stop services such as system construction for industries such as manufacturing and distribution, IT infrastructure design and operation, and cloud services based on its own data centers. The company is also involved in embedded system development and LSI and board design and development in the fields of automotive, communications, and equipment. By focusing on the IoT and AI fields and providing solutions and services centered on the IoT platform "Toami", we aim to become a company that leads the way in helping customers achieve DX and digital transformation.

*The information contained in this news release is current as of the date of publication.
*The information in this news release is current as of the date of the announcement. All company names, product names and service names are trademarks or registered trademarks of their respective owners.


[For inquiries regarding this matter, please contact]
alt Inc.
Sales Asai TEL: 03-6380-7076 Email: rmr@alt.ai
Public Relations Nishizawa TEL: 03-6380-7076 Email: press@alt.ai

Chat Plus Co.
Chief Sales Director Miura
TEL: 050-8882-5558
Email: sales@chatplus.jp


Japan Systemware Co.
Service Solution Division Sales Management Department Iizuka, Ishikawa
TEL: 03-3770-0096
Email: nsw-dc@gw.nsw.co.jp
Public Relations, Planning Office, Corporate Headquarters: Somehwa, Kaneko
TEL: 03-3770-4014
Email: kouhou@gw.nsw.co.jp